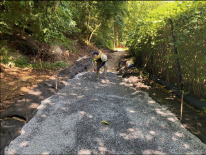 Last Date:
Details:
The District Department of Transportation (DDOT) and the National Park Service (NPS) will host their second public meeting virtually to update the public on the construction progress made year to date and outline construction activities for the next phase of the Rehabilitation of Rock Creek Park Multi-Use Trail and Pedestrian Bridge project.
TO PARTICIPATE IN THE MEETING: Use the attendee link or call in.
Attendee Link: rebrand.ly/RockCreekParkTrail2
Event Number: 180 303 9001
Event Password: September7!
Dial-in: (audio only): Call +1-202-860-2110. Access Code: 180 303 9001. An Attendee ID is not required, press # to join.
Accessibility: ASL interpreters will be available. The meeting will be recorded, and captions will be added before it is posted on the website.
https://rock-creek-trail-dcgis.hub.arcgis.com/