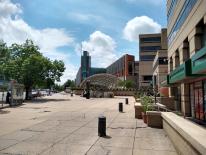 Project Summary
The Van Ness Commercial Corridor Project will propose improvements for the Van Ness commercial district. The Project is in Ward 3, and within the boundaries of Advisory Neighborhood Commission (ANC) 3F. The project will continue the conceptual planning work that was managed by the DC Office of Planning, as part of the Van Ness Commercial District Action Strategy and the Connecticut Avenue Green Infrastructure Strategy.
Study Area
The project study area is Connecticut Avenue NW between Van Ness Street and Albemarle Street, Windom Place NW on both sides of Connecticut Avenue, and Van Ness Street NW between Connecticut Avenue and Reno Road.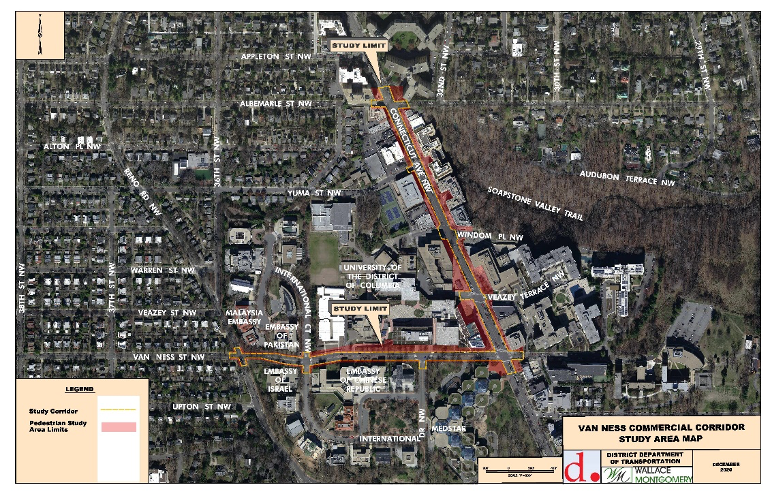 Project Goals and Benefits
Develop a concept plan that promotes multimodal transportation safety and creates community-friendly public spaces along the project area;
Present a concept plan that embraces the positive qualities of the commercial corridor and incorporates community and stakeholder involvement; and
Set a path forward for future phases of the project, which will cover the final design and construction.
Project Schedule
The project will conclude in June 2022.
Public Involvement
Throughout the project, DDOT will engage internal and external stakeholders through three major public meetings, Community Advisory Committee (CAC) meetings, ANC, and other community meetings via the project's website, and other tools, as appropriate. Project presentations and other materials will be linked on this page as they are developed.
Get Involved
For more information, please contact the project team at [email protected].
Click here to view a presentation for the final concept plan for the project.