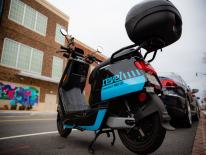 Q: What is a motor-driven cycle?
A motor-drive cycle, sometimes referred to as a moped or motor scooter, is a two or three wheeled motor vehicle that has a seat or saddle for use of the operator. These vehicles go slower than a motorcycle and faster than a motorized bicycle. In the District, these vehicles may travel up to 30 miles per hour.
Q: What is this program?
The companies operating under this program operate a network of motor-driven cycles that are available to rent. This service is generally accessed from a mobile app on a mobile phone.
These rental trips are one-way and can start and end on any public curb within the District, provided that the start and end locations are legal non-rush hour, residential or metered parking spaces.
The drivers of these vehicles must have a valid driver's license and the vehicles must follow posted speed limits. The drivers and passengers of these vehicles must wear a helmet at all times when riding these vehicles.
Q: Why is the District piloting this program?
This demonstration pilot creates the opportunity to increase the number of shared mobility options in the District. DDOT recognizes the importance of vehicle sharing to create equitable transportation access across the District and reduce reliance on single-occupant vehicles. As part of the agency's vision, DDOT is introducing new and emerging mobility services to encourage residents and visitors to try alternative modes of transportation.
The goal of this pilot program is to explore a new alternative to vehicle ownership, decrease congestion and reduce transportation-based emissions.
Q: How do I sign up and access a vehicle?
Complete a membership application online on the company's website.
Once your application is approved, you can use your smartphone to locate and unlock the vehicle or you can unlock your vehicle by manually entering your customer number.
Q: What rules do these vehicles have to follow?
Vehicle drivers must have a valid Driver's License.
Vehicles must be registered and tagged by the DC DMV.
Helmets are required for vehicle drivers and passengers at all times.
Vehicles are not allowed to travel or park in bike lanes, sidewalks or trails.
Vehicles can travel up to 30 miles per hour and must follow posted speed limits. Where no signage is posted, the speed limit is 20 miles per hour.
Q: What are the parking rules? Where can I park a shared motor-driven cycle?
Shared Motor-Driven cycles are exempt from meter fees and Residential Parking Permit (RPP) time restrictions. However, the vehicles are subject to all other parking rules including but not limited to the following:

Vehicles must be parked in the parking lane in legal residential or metered parking spaces.
Vehicles can not be parked in rush hour lanes
Vehicles must be parked in compliance with all applicable signage, pavement markings, and regulations that control the parking of vehicles in the public right-of-way.

Vehicles shall not be parked on the sidewalk.
Vehicles must be parked in such a way that ensures the vehicle remains upright.
Vehicles may not be parked on property that is not public right-of-way within the jurisdiction of the District, without the consent of the property owner.
Q: Can more than one shared motor-driven cycle be parked in a parking space at one time?
Yes. A motor driven cycle takes less space than an automobile, and therefore multiple shared motor-driven cycles can be parked in a parking space parallel to the curb. Additionally, these vehicles can be parked perpendicular to the curb if not impeding the flow of traffic.
Q: I don't know how to ride a moped. How can I learn?
If you are interested in lessons, please contact your selected provider. They are required to offer in-person instruction for the use of their vehicles.
Q: Who is in charge of the shared motor-driven cycles?
Individual private companies operate and maintain their respective fleet. The District Department of Transportation (DDOT) develops the terms and conditions for operations.
Q: Who should I contact about an improperly parked vehicle? How do I report vehicles that are left on my property or in another inappropriate location?
We encourage anyone who notices an improperly parked vehicle to reach out to the company providing the service. Contact information for each company is provided on their website, their vehicles, and on the Shared Motor-Driven Cycles website.
If a vehicle is parked on-street and in conflict with existing parking regulations, call 311 or visit the DC 311 website at https://311.dc.gov.
Q: What happens if I need assistance with the vehicle?
If you need assistance with the vehicle, please contact your service provider for help. The service provider has a customer service phone number that is displayed on the website and on each vehicle.
Q: How can I provide feedback on the shared motor-driven cycle program?
DDOT welcomes community feedback during the demonstration period. Please call DDOT at (202) 673-6813 or email us at [email protected].