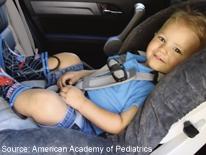 The District of Columbia government is making it easier for residents to protect their families.
This program allows DC residents to purchase infant, toddler, and booster seats at reduced rates.
To purchase the safety seats or to obtain educational materials on properly buckling children, visit one of the District's Child Seat Distribution Locations.
Project Safe-Child
Car Seat Type
Child Size
Fee
Infant

5-22 pounds

Free with voucher
Toddler

5-50 pounds

Free with voucher
Big Kid Booster
Over 40 pounds and 4 years old ¥
Free
Call (202) 409-0234 for voucher locations.

¥

Warning: It is important to put all children over 40 pounds and under 54 inches tall in




booster seats!
Learn more about Child Safety Seat Usage, and the correct use of child restraints.
Visit the District's free Car Seat Inspection Stations.
For more information on Child Passenger Safety Week and to find the car seat inspection station nearest you, visit www.nhtsa.gov. For live updates follow childseatsafety on Twitter.
Goals
To improve the safety of DC residents and children through a comprehensive car seat program, and to assist residents with adhering to comprehensive child safety laws, which took effect December 2002.