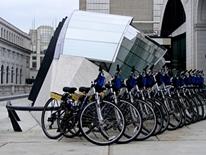 DDOT has a very progressive Bicycle Program with some of the most innovative initiatives in the nation, including the first self-service bike parking program and the Bikestation at Union Station. The Bikestation offers secure, protected parking for more than 100 bikes right next to the District's busiest transit hub.
DDOT has also installed more than 1000 outdoor bike racks across the city and is constantly adding more. To request a bike rack installation, please call the Mayor's Citywide Call Center at 311 or (202) 727-1000.
In addition, bike parking is required in all buildings with car parking in the District.

For more information about bike parking call (202) 671-0534.
Goals
To provide convenient bike parking facilities.
Program at a Glance
Program Title: Bicycle Parking
Agency: District Department of Transportation
Office: Policy, Planning and Sustainability Administration (PPSA)
Type: Planning and Strategy
Phone: 311
Related Document