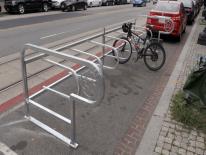 Safe, secure, and abundant bicycle parking is necessary to support the District's growing number of people using bikes for transportation, commuting, and recreation. Providing sufficient bicycle parking is part of DDOT's strategy to promote bicycling in the District of Columbia and reduces the number of bikes locked to trees, benches, and railings.
Residents can request a bike rack in the public space by submitting a request to 311. DDOT installs around 400 bike racks per year and District regulations require new construction to provide both short and long-term bicycle parking for residents, employees, and visitors.
Bike Center
DDOT also manages the Bike Center at Union Station, offering more than 100 secure and protected parking spaces for bikes right next to the District's busiest transit hub.
For more information about bicycle parking or the Bike Center, please contact the program manager at [email protected].