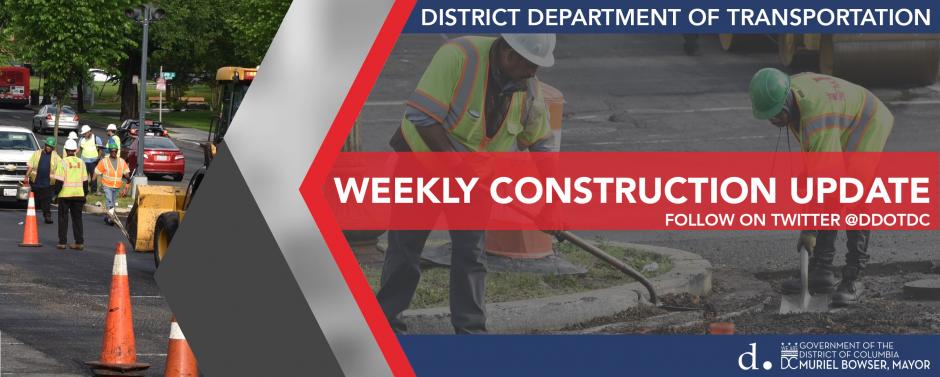 Work Between Saturday, January 4 and Saturday, January 18, 2020
---
Mayor Bowser is committed to eliminating all roadways, alleys, and sidewalks in poor condition in Washington, DC by 2024 through the PaveDC initiative. This publication lists all of the road, alley, and sidewalk paving projects that will be under construction during the next two weeks. The 2019 Paving Plan is now live on the PaveDC website and includes a new tab for sidewalks scheduled for repair, in the coming weeks DDOT will also post the markings plan for the 2019 season. For more information about these projects, please visit DDOT's interactive tool, PaveDC.

Please note: Work may be adjusted depending on weather and other conditions. Additional projects may be added to this list. DDOT contacts residents and businesses within the work zones before work begins. Unless otherwise noted, work is not conducted on weekends.
---
Citywide Pavement Restoration Projects
As part of DDOT's commitment to improving and restoring local roadways, activities will be conducted at the following locations throughout the following two weeks, weather permitting:
Ward 6
I Street SW, between South Capitol Street and 7th Street SW (Crack Sealing)
---
Citywide Sidewalk Restoration Projects
As part of DDOT's commitment to the improvement and restoration of local sidewalks, construction activities will occur at the following locations throughout the next two weeks.
Ward 2
Church Street NW, between 15th Street NW and 16th Street NW
Ward 3
Van Ness Street NW, between Connecticut Avenue NW and Reno Road NW
Ward 4
Iowa Avenue NW, between 13th Street NW and Arkansas Avenue NW
Ward 5
Q Street NW, between 3rd Street NW and New Jersey Avenue NW
Ward 6
D Street NE, between 4th Street NE and 5th Street NE
5th Street NE, between D Street NE and E Street NE
Marion Street NW, between Q Street NW and R Street NW
Rosedale Street NE, between 17th Street NE and 16th Street NE
Ward 7
Fort Davis Place SE, between Q Street SE and Dead End
28th Street SE, between Pennsylvania Avenue SE and Q Street SE
Ward 8
Chester Street SE, between W Street SE and Valley Street SE
---
Citywide Alley Restoration Projects
DDOT is improving alleys across the city. Once work begins, access to parts of the alley under construction will be closed, and parking is restricted. In emergency situations, access may be permitted by notifying DDOT. Work is estimated to take about two weeks, weather permitting. DDOT will be working in the following alleys this week:
Ward 7
Square 4516, bound by Benning Road NE, 23rd Place NE, E Street NE and 24th Street NE
Square 4522, bound by Oklahoma Avenue NE, 24th Street NE and E Street NE
Square 5380, Burns Street SE, H Street SE, Gorman Street SE and Adrian Street SE
---
If you live near any of the project areas, please remove your vehicles by the posted times, and encourage your neighbors to do the same.