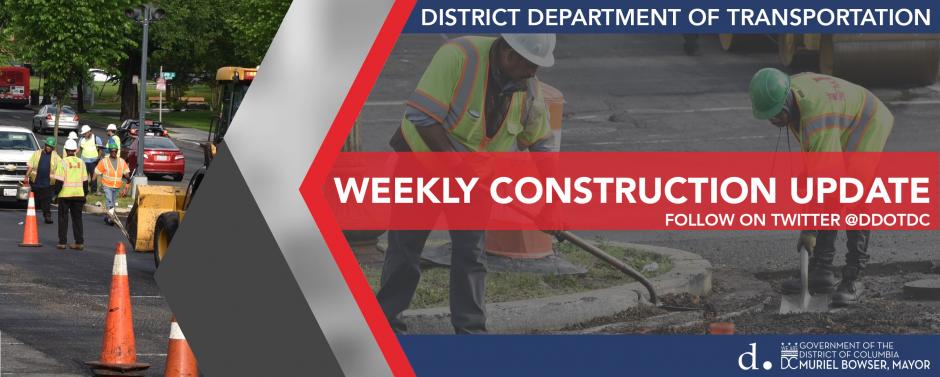 Work Between Saturday, February 8 and Saturday, February 22, 2020
---
Mayor Bowser is committed to eliminating all roadways, alleys, and sidewalks in poor condition in Washington, DC by 2024 through the PaveDC initiative. This publication lists all of the road, alley, and sidewalk paving projects that will be under construction during the next two weeks. The 2019 Paving Plan is now live on the PaveDC website and includes a new tab for sidewalks scheduled for repair, in the coming weeks DDOT will also post the markings plan for the 2019 season.For more information about these projects, please visit DDOT's interactive tool, PaveDC.

Please note: Work may be adjusted depending on weather and other conditions. Additional projects may be added to this list. DDOT contacts residents and businesses within the work zones before work begins. Unless otherwise noted, work is not conducted on weekends.
---
Citywide Pavement Restoration Projects
As part of DDOT's commitment to improving and restoring local roadways, activities will be conducted at the following locations throughout the following two weeks, weather permitting:
Ward 8
Martin Luther King Jr. Avenue SE, between Good Hope Road SE and Howard Road SE (Crack Sealing)
---
Citywide Sidewalk Restoration Projects
As part of DDOT's commitment to the improvement and restoration of local sidewalks, construction activities will occur at the following locations throughout the next two weeks.
Ward 1
T Street NW, between 17th Street NW and 18th Street NW
Ward 2
15th Street NW, between Constitution Avenue NW and I Street NW
Vermont Avenue NW, between Logan Circle NW and R Street NW
Ward 4
Piney Branch Road NW, between Butternut Street NW and Underwood Street NW
Ward 5
Morse Street NE, between Montello Avenue NE and West Virginia Avenue NE
R Street NW, between 4th Street NW and 5th Street NW
21st Place NE, between Maryland Avenue NE and M Street NE
Intersection of Michigan Avenue NE and Perry Street NE (Bus Stop Improvements)
Ward 6
5th Street NE, between Constitution Avenue NE and C Street NE
Ward 8
Ridge Place SE, between 13th Street SE and 14th Street SE
---
Citywide Alley Restoration Projects
DDOT is improving alleys across the city. Once work begins, access to parts of the alley under construction will be closed, and parking is restricted. In emergency situations, access may be permitted by notifying DDOT. Work is estimated to take about two weeks, weather permitting. DDOT will be working in the following alleys this week:
Ward 1
Square 2829, bound by 11th Street NW, 13th Street NW, Otis Street NW and Spring Place NW
Square 2856, bound by Girard Street NW, 13th Street NW, 11th Street NW and Harvard Street NW
Ward 2
Square 0177, bound by T Street NW, 16th Street NW, Swann Street NW and New Hampshire Avenue NW
Ward 4
Square 2986, bound by Missouri Avenue NW, 9th Street NW and Georgia Avenue NW and Peabody Street NW
Ward 5
Square 3820, bound by Taylor Street NE, 7th Street NE, Quincy Street NE, Perry Place NE and 10th Street NE
Square 4061N, bound by Levis Street NE, Trinidad Avenue NE, Holbrook Street NE and Queen Street NE
Square 3755, bound by 7th Street NE, 8th Street NE, Galloway Street NE and Hamilton Street NE
---
If you live near any of the project areas, please remove your vehicles by the posted times, and encourage your neighbors to do the same.