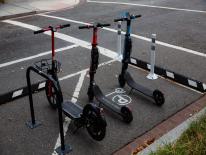 Shared mobility providers are assisting essential workers  by offering free or discounted services. 
Bird
E-scooter rides
Eligible groups include healthcare, grocery, and restaurant workers
Riders can send proof of eligibility, such as an employee badge, to

[email protected]

along with their name and phone number. Approval takes 2-3 days
Lime & Jump by Lime
E-scooter & e-bike
Lime is providing free 30-minute rides to workers in health care, public safety, public transit, janitorial, delivery service and other essential occupations who are helping to keep our cities safe and moving during this unprecedented time
To apply for the promotion, submit the form here with supporting documentation proving eligibility
Lyft
E-scooter
Eligible groups include first responder, healthcare, and transit workforce
The scooter Critical Workforce program is still live and ongoing in DC, enrollment has closed and we are no longer accepting new applications.
Razor
E-scooter
All First Responders, Medical Professionals, and Grocery Store or Pharmacy employees are eligible to receive unlimited free use of Razor shared scooters while "Stay-At-Home" guidelines remain in effect.
Please submit a photograph of your valid credentials and Razor account's phone number to

[email protected]

, along with "Essential Workers Program" in the email subject line.
Revel
Spin
E-scooter
The following groups are eligible: Healthcare Workers, Teachers, Restaurants Workers, First Responders, Public Transit Employees, Food Retail Employees, and Pharmacy Employees
Users can sign up through the following link: https://www.spin.app/covid19-us