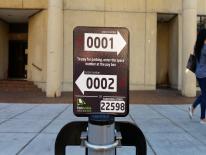 ParkDC is an initiative by the District Department of Transportation (DDOT) to manage and regulate the District's curbside and parking assets.
Connecticut Avenue Pick-Up/Drop-Off Zone Enhanced Enforcement
The District Department of Transportation (DDOT) announced enhanced enforcement is set to begin in the Dupont Circle Nightlife no parking pick-up drop off zones on and around Connecticut Avenue NW. Starting Thursday, August 30, 2018 vehicles parked in the zones and not picking up or dropping off people will be towed.
DDOT launched the nightlife pick up drop off zone October 2017 in concert with the Golden Triangle Business Improvement District, the Metropolitan Police Department, and the Department of Public Works. The pilot program has been well received and with the support of additional enforcement in the area operations are expected to continue to improve. The pick-up drop-off zones are designed to address traffic and pedestrian safety concerns generated by the growing late-night activity at Dupont area restaurants and bars. The pick-up and drop-off zones are available during evening hours from 10:00 pm to 7:00 am on Thursday, Friday and Saturday nights along Connecticut Avenue NW from Rhode Island Avenue NW to Dupont Circle (see map).

New Parking Meter Rate Schedule in Penn Quarter/Chinatown
Beginning Monday, November 6, 2017, there will be a new parking meter rate schedule in the Penn Quarter and Chinatown neighborhoods. The parking meter rate adjustment is part of a pilot project to improve parking availability through demand-based pricing. The pilot includes all metered on-street parking spaces within the area bounded by H Street NW, 3rd Street NW, E Street NW and 11th Street NW.

For spaces in the pilot area, parking meter rates on individual block faces will be adjusted to one of eight prices: $1.00/hour, $1.50/hour, $2.00/hour, $2.30/hour, $2.75/hour, $3.25/hour, $4.00/hour, $4.75/hour or $5.50/hour. Prices are also different depending on the time of day. On weekdays, there are three periods: 7 am – 11 am, 11 am – 4 pm, and 4 pm – 10 pm. On Saturdays, the rates will vary throughout the day. The maps below show what the prices will be on each block in the study area during each time period.



Parking in Penn Quarter/Chinatown
Approximately 1,000 on-street parking spaces in the Penn Quarter and Chinatown area are now clearly numbered, with new payment kiosks and no need to display receipts on dashboards.
Here's How To Park and Pay:
Park in a numbered space defined by the new space marker posts.
Get your 4- or 5-digit space number from the space marker.
Pay for your parking time by entering the space number at the curbside payment kiosk or entering the zone and space numbers on your mobile device using Parkmobile.
Be on your way! No need to display a receipt on your dashboard.
Pay-By-Space is available on streets around the Verizon Center, National Portrait Gallery, National Building Museum, MLK, Jr. Library and Ford's Theater, between E Street and H Street, NW, and 3rd Street and 11th Street, NW. It includes approximately 1,000 parking spaces.
Pay-By-Space Frequently Asked Questions
For more information or if you have questions, call (202) 671-2700 or 311.
Related
Multimodal Value Pricing Pilot for Metered Curbside Parking -- Penn Quarter/Chinatown
Goals
To manage and regulate the District's curbside and parking assets.