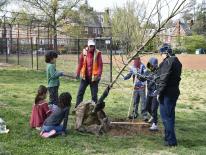 DDOT's Urban Forestry Division (UFD) is the primary steward of Washington DC's ~170,000 public trees and has a mission of keeping this resource healthy, safe, & growing! Trees in the city are critical to our well-being. Among many other benefits, these trees improve our air and water quality, cool our neighborhoods, and provide critical habitat for birds, bees, and...people, too! To help the public understand and connect with the forest that surrounds them, UFD has created an interactive portal. Scroll through it to explore information describing the history, value, and management of the urban forest in Washington, DC.
Knowing when, where, and how to get the right permit for tree work can be a complicated process. Fortunately, we're here to make it easy!
Call 311 or go to 311 online to request street tree services, including reporting emergencies, pruning, removals, and planting.