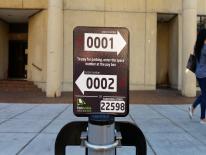 ParkDC is an initiative by the District Department of Transportation (DDOT) to manage and regulate the District's curbside and parking assets.
---
ParkDC
ParkDC.com provides information on the District Department of Transportation's (DDOT) parking and curbside programs. On this site, you can learn about residential parking (and permits), meters, parking signs, and new curbside programs! These programs are managed by DDOT's Parking and Ground Transportation Division (PGTD).
---
Residential Permit Parking
The Residential Permit Parking (RPP) program limits residential parking to residents living on designated blocks.
---
Visitor Parking
The annual Visitor Parking Pass (VPP) program allows guests of District residents to park for more than two hours on RPP blocks. DDOT provides an annual Visitor Parking Pass to all eligible RPP households. Residents should continue to use the existing 2020 Visitor Parking Pass (VPP) into 2021. The District plans to launch a streamlined digital parking permit program in 2021.
---
Residential Disability Parking Permit (RDPP)
The Residential Disability Permit Parking (RDPP) program allows certain residents to apply for a reserved parking space on their block of residence.