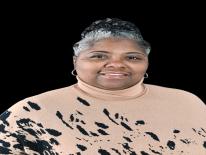 Position/Title:
Associate Director of Transit Delivery
Carla Longshore is the Associate Director of Transit Delivery at the District Department of Transportation (DDOT). She has worked in the transportation industry in Washington, DC, for more than 30 years.
Carla began her career in transportation at Landmark Services Tourmobile, Inc., a former locally owned and operated sightseeing company; she started as a revenue cashier and progressed to become president of the organization. During her tenure with Tourmobile, she served in many capacities within the operation, including dispatch, marketing, and maintenance oversight. Later she became manager of per capita tours and commuter routes for a local division of a motor coach company. In 2015, she accepted the position of Associate Administrator for Fleet Operations at the DC Department of Public Works.
Her experience and passion for bus operations led her to DDOT, where she continues to advocate for transportation. She leads a team providing guidance and oversight for the DC Circulator, DC Streetcar, and Washington Metropolitan Area Transit Authority (WMATA) Coordination programs. Carla focuses on operations, budget, and contract management improvement. Born and raised in Washington, DC, she has a strong connection to transit operations in the region, which gives her great pride in managing transit operation programs and two administrative transit programs: School Transit Subsidy and coordination with WMATA to improve transit operations. She actively supports the District's priority to increase transit ridership, reduce single occupancy vehicles, and improve safety for all transportation modes in the city.
Carla is currently pursuing her Doctor of Philosophy (PhD) in Public Administration. She previously attended Howard University and earned both a Bachelor of Science in Business Administration and a Master of Business Administration from Strayer University. She is also an alumna of the ENO Transit Senior Executive Program.