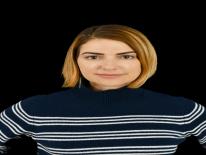 Position/Title:
Associate Director of Planning and Sustainability Division
Anna Chamberlin is the Associate Director of Planning and Sustainability Division at the District Department of Transportation (DDOT)
Anna joined DDOT in 2007 during a rotation with the Capital City Fellows Program, during which she drafted the first Complete Streets policy for the agency and installed the first public curbside vehicle chargers. Under her leadership, DDOT adopted an award-winning Comprehensive Transportation Review (CTR) Guidance for the review of private development projects that emphasizes TOD developments and the reduction of off-street parking. Prior to becoming Associate Director, Anna served as Neighborhood Planning Branch Manager and was responsible for the District's first ever Open Streets even in October 2019 and managed the livability and development review programs along with public space permitting and review for the agency. In her previous role, Anna also worked to to increase the use of ground murals and tactical urbanism approaches to DDOT safety projects through public space activation and art.
Anna earned a Masters of Public Policy from George Mason University.