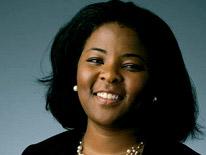 Position/Title:
Public Information Officer
Lauren Stephens is DDOT's Public Information Officer. In this role, she is responsible for managing internal and external communications including media relations, strategic messaging, social media, graphic design, and videography on behalf of the nearly 1100 members of the DDOT team.
Lauren joined DDOT as a Public Affairs Specialist in April 2018, after serving six years as Communications Director at the Office of Contracting and Procurement (OCP) where she managed communications, policy and legislative affairs, customer service, and business engagement. During her tenure at OCP, Lauren implemented a robust outreach and engagement program that included the launch of two signature agency outreach activities, OCP in the Wards and the annual DC Buys Reverse Trade Fair.
Prior to joining the District Government in 2012, Lauren served as the Press Secretary at the Education Trust, a non-profit organization dedicated to closing the achievement gap for low-income and minority students across the nation. Lauren helped create the #SavePell campaign during Congress' 2011 attempt to cut the support for disadvantaged college students; and handled press around reports that uncovered data that showed high school graduates of color were less prepared than their counterparts to pass the U.S. Army entrance exam; and, disclosed the danger of the underregulated for-profit college industry for low-income and minority Americans, among others. Lauren began her career working at international public relations firms handling corporate communications and reputation management for several national brands.
Lauren earned a Master's in Public Communication from American University and a Bachelor of Arts in Journalism from Howard University.