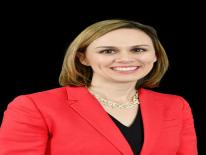 Position/Title:
Deputy Chief of Staff -- District Department of Transportation
Amanda Stout is DDOT's Deputy Chief Officer for Project Delivery. She provides executive leadership and coordination working across the agency to deliver the Mayor's priority capital infrastructure projects.
Amanda joined DDOT in 2015 as the Special Assistant for Economic Development and then served as the agency's Deputy Chief of Staff. As the Department's point person on a portfolio of real estate development and capital projects, Amanda coordinates with District partners and stakeholders emphasizing the role that transportation plays in creating a more accessible and sustainable city.
Amanda's career includes both public and private sector experience in the transportation industry, working in local government city halls and at top engineering and design firms throughout the Northeast corridor, including positions at STV Incorporated in Baltimore, WSP in New Jersey, Sasaki Associates in Massachusetts, and the Cities of Newton, Somerville, and Boston, Massachusetts.
Amanda holds a bachelor's degree from Williams College, a Master's Degree in City Planning from the Massachusetts Institute of Technology (MIT), and a certification from the American Institute of Certified Planners (AICP).