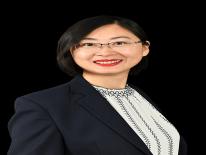 Position/Title:
Manager, Performance Management Division
Dr. Ting Ma is the Manager, Performance Management Division. Prior to this role, Ting was a Performance Analyst in DDOT's Performance Management Division responsible for agency-wide performance plans, coordinating performance reporting to the Office of City Administrator and USDOT, using data and technology to improve the agency's business process and decision-making mechanism, and supports many divisions' data and analytics needs. In particular, she led the PaveDC's data team to create a prioritization model and developed the agency's first paving plan communication tool, PaveDC website. Her work has received accolades from the DC Government and professional organizations, and she was invited to speak at several conferences.
Ting first joined as a summer intern at DDOT in 2016. Before that, she worked as a Research Assistant at the National Center for Smart Growth for five years, where she led the Purple Line Corridor Coalition's data and community dashboard development team. At NCSG, Ting completed many successful projects for the United Nations, National Science Foundation, USDOT, and Maryland Department of Transportation.
Ting is a nationally certified urban planner by the American Institute of Certified Planner (AICP). She received her Ph.D. degree in Urban and Regional Planning and Design from the University of Maryland, College Park, a Master in Urban Planning from the University of Michigan, Ann Arbor, and a Bachelor of Engineering from Tongji University in China. Ting also started and leads the Intelligent Transportation Society of the District of Columbia (ITS DC), a platform for discussions about emerging and future transportation technologies and their impacts on Washington, D.C.