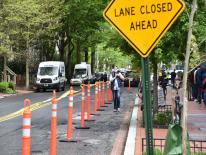 The District Department of Transportation (DDOT) will temporarily extend sidewalks near grocery stores and other essential retailers to allow pedestrians enough space to practice social distancing during the coronavirus (COVID-19) public health emergency. Sidewalk extensions will be located in all eight wards of the District, based upon DDOT's evaluation and suggestions from the public.
DC Health and federal guidelines define social distancing as individuals keeping at least six feet apart from each other as much as possible.
DDOT is evaluating sites and will also consider locations submitted by Advisory Neighborhood Commissioners (ANC) and Business Improvement District (BID) representatives. Residents should submit their requests to their respective ANC or BID. In turn, the ANC or BID will send suggestions to [email protected]. For more information about the sidewalk extensions, please visit ddot.dc.gov or call the DDOT Customer Service Division at (202) 673-6813.
Locations include:
North side of Irving Street NW between Hiatt Place and 15th Street NW
West side of Georgia Avenue NW between Quincy Street and Randolph Street
East side of 25th Street NW between Pennsylvania Avenue NW and the Trader Joe's driveway and north side of L St NW between 25th St NW and the driveway
North side of H Street NE between 3rd Street NE and 4th Street NE
Full closure of the Connecticut Ave NW service lane between Macomb Street NW and Ordway Street NW
3600 block of Georgia Ave NW (west side, from New Hampshire Ave NW to driveway)
3000 block Mt. Pleasant St NW (west side, from Irving St NW to driveway)
Unit block of H St NW (north side, from 1st St NW to driveway)
1500-1600 blocks of 17th St NW
1800 block of 20th St NW
For more information about the District's response to COVID-19, please visit coronavirus.dc.gov.