Capital Bikeshare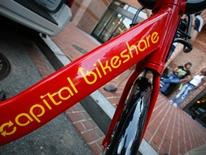 The District Department of Transportation's bikesharing program, in partnership with BikeArlington, is called Capital Bikeshare.
With Capital Bikeshare you can choose from over 110 stations across Washington, D.C. and Arlington, VA and return it to any station near your destination. Check out a bike for your trip to work, Metro, run errands, go shopping, or visit friends and family. Join Capital Bikeshare for 24 hours, 5 days, 30 days, or a year, and have access to our fleet of bikes 24 hours a day, 365 days a year. The first 30 minutes of each trip are free. Each additional 30 minutes incurs an additional fee.
The stations are solar powered and use wireless technology to allow for easy installation and adjustments. Alta Bicycle Share operates the system with local staff.
Capital Bikeshare is the successor to DDOT's first bikesharing system called Smartbike DC which launched in August 2008 with 10 stations and 100 bikes. That system was run by ClearChannel Outdoor. SmartBike DC was the first bike sharing program of its kind in the US.
2012 Expansion Plans
As part of DDOT's effort to expand bikesharing in the District, 54 locations were selected from a longer list of 78 suggested locations submitted by the public over the past 2 years. DDOT evaluated the locations using several criteria, including population density, employment density, bike-to-work rate, proximity to metro, and proximity to other Bikeshare stations. Residents also 'voted' for their preferences using an interactive crowdsourcing map. See the 2012 Expansion List with the criteria.
The proposed stations are in a mix of new and existing bikeshare neighborhoods.
DDOT plans to start installing new stations and bikes in January and finish in March. Locations not selected in this round of 54 will be considered for a future round.
Proposed Locations Alongside Existing Stations

View Capital Bikeshare Expansion locations in a larger map
To inquire about proposed DC Bikeshare locations, please email ddot.bikeshare@dc.gov.
First Round
18th Street and Wyoming Avenue, NW
11th Street and M Stree, NW
14th Street and Clifton Street/ Boys and Girls Clu, NW
15th Street and Euclid Street, NW
20th Street and Virginia Avenue, NW
Ellington Bridge, SE corner, NW
Elm Street and 2nd Street (LeDroit Park), NW
New Jersey Avenue and R Stree, NW
Hiatt Place between Park and Irving, NW
13th Street and U Street, NW
17th Street and Massachusetts Avenue/JHU, NW
5th Street and Massachusetts Avenue, NW
8th Street and D Street, NW
11th Street and Florida Avenue, NW
11th Street and K Street, NW
L'Enfant Plaza at Independence Ave, SW
11th Street and F Street, NW
23rd Street and W.H.O., NW
Constitution Ave and 21st Street, NW
34th Street and Water Street, NW
Connecticut and Nebraska Avenues, NW
Connecticut Avenue and Albemarle St, NW
O Street and Wisconsin Avenue (East), NW
Wisconsin Avenue and Fessenden St, NW
Wisconsin Avenue and Veazy Street, NW
14th Street and Upshur Street, NW
14th Street and Colorado Avenue, NW
5th Street and Kennedy Street, NW
Georgia Avenue and Decatur Street, NW
V Street and Rhode Island Avenue at Summit Place, NE
2nd Street and M Street, NE
Hamlin Street and 7th Street, NE
12th Street and Irving Street, NE
Neal Street and Trinidad Avenue, NE
Rhode Island Avenue Metro entranc, NE
18th Street and Rhode Island Avenue, NE
8th Street and F Street, NE
Pennsylvania Avenue and 3rd Street, SE
8th Street and East Capitol Street, NE
15th Street and East Capitol Stree, NE
Independence and Washington/HHS, SW
Constitution Avenue and 2nd St/DOL, NW
6th Street and Indiana Avenue, NW
New Jersey Avenue and D Street, SE
15th St, F St and Tennessee Avenue, NE
9th Street and M Street, SE
Tingey Street and 3rd Street, SE
Deanwood Rec Center and Library, NE
Burroughs Avenue and 49th Street, NE
Burroughs Avenue and Minnesota Avenue, NE
Minnesota/34th Street and Ely Place, SE
Alabama Avenue and Stanton Road, SE
MLK, Jr. Avenue and Alabama Avenue, SE
MLK, Jr. Avenue and Pleasant Street, SE
2nd Round
MLK, Jr. Avenue and St. E's Gate 5, SE
14th Street and Fairmont Street, NW
18th Street and C Stree, NW
L'Enfant Plaza at Banneker Circl, SW
G Street at MLK Library, NW
Wisconsin Ave and Ingomar Street, NW
Brandywine St and Wisconsin Avenue, NW
Connecticut Ave and Porter Street, NW
O Street and Wisconsin Ave (West), NW
Massachusetts Ave and 48th Street, NW
Van Buren Street and Rec Center, NW
Ft Totten Metro Station, NW
Cedar Street underpass (Takoma), NW
Piney Branch Rd and Georgia Avenue, NW
1st Street and K Street, NE
Rhode Island Avenue and Franklin Street, NE
18th Street and Monroe Street, NE
New Jersey Avenue and L Street, NW
Haines Point Rec Center, SW
2nd Street and V Street, SW
Burroughs and Division Avenues, NE
Ely Place and Ft. Dupont Ice Rink, SE
16th Street and Minnesota Avenue, SE
MLK, Jr. Avenue and St E's Gate 1, SE
Goals
Increased modes of transportation
Related Documents
Program at a Glance
Program Title: Capital Bikeshare
Agency: District Department of Transportation
Office: Policy, Planning and Sustainability Administration (PPSA)
Type: Planning and Strategy
Phone: (202) 671-3499
Website: capitalbikeshare.com