Transportation Alternatives Program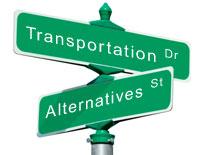 Applications for fiscal year 2015 will be accepted beginning in June 2014. Completed applications should be submitted by August 1. Please consult the TA Program Summary prior to completing the application.
The Transportation Alternatives (TA) Program is a reimbursable federal aid program for community-based transportation projects funded through the Moving Ahead for Progress in the 21 Century Act (MAP-21). The program aims to expand travel choice, strengthen the local economy, improve quality of life, and protect the environment by supporting non-traditional projects linked to the transportation system.
Funding Process
The TA Program has evolved under the most recent federal surface transportation bill. MAP-21 made changes to some eligible activities and to how federal funds had been distributed under the previous program, Transportation Enhancements. After an initial set aside of funds for the Recreational Trails Program, the remaining TA funds are split, with 50 percent of these remaining funds being managed by the region's Metropolitan Planning Organization, and 50 percent being managed by DDOT.
As the designated MPO for the region, the Metropolitan Washington Council of Governments (MWCOG) is responsible for 50 percent of TA funds, while DDOT is responsible for administering the remaining 50 percent. For FY 2015, MWCOG and DDOT are coordinating their call for projects and project selection process. A single form will be used to apply for both portions of TA funding. In total, there is approximately $2.3 million available for Transportation Alternatives grants for the FY 2015 application cycle.
Eligible Activities
Each TA project must demonstrate a relationship to surface transportation and fall under one of the eligible activities listed below.
Facilities for pedestrians, bicyclists, and other non-motorized forms of transportation
Safe routes for non-drivers
Conversion and use of abandoned railroad corridors for trails
Community improvement activities, which includes, but is not limited to:

Inventory, control, or removal of outdoor advertising
Historic preservation and rehabilitation of historic transportation facilities
Vegetation management practices in transportation rights-of-way
Archaeological activities relating to impacts from transportation projects
Construction of turnouts, overlooks, and viewing areas
Streetscape improvements which are project components of another TAP eligible category.

Environmental mitigation or pollution prevention
Safe Routes to School
Recreational Trails
Projects will be reviewed through a competitive process and selected based upon a number of criteria including the project's expected benefits to the community, feasibility and project readiness, consistency with agency plans and missions, and the sponsor's demonstrated ability to manage a federal-aid project.
Project Sponsors
If awarded funding, sponsors will be responsible for providing a project manager who will manage the implementation process. This includes project development, day to day management, supervising necessary contractors, and ensuring that the project is completed on time and in accordance with all federal requirements. The project sponsor also assumes the maintenance and legal liability for the duration of the project's useful life.
Eligible project sponsors include:
Local Governments
Regional transportation authorities
Transit agencies
Natural Resource or public land agencies
School districts and local education agencies
Tribal governments
Other local and governmental entity with oversight of transportation or recreational trails.
501 (c) organizations are still eligible to apply in the role of Project Advocate provided that they partner with an eligible government agency that is willing to act as the official Project Sponsor. Non-profits who apply using this arrangement should clearly articulate the role and responsibilities of the respective parties in the application.
To Apply
Project sponsors should familiarize themselves with the TA Program Summary prior to completing their application. Applicants may then fill out the official application form and submit it to Stephen Hurst, Citywide Transportation Planner, prior to the August 1 deadline.
Timeline
June 2 – Release call for projects.
August 1 – Deadline to submit project applications to DDOT's Transportation Alternatives administrator.
September 15 – Deadline for Project Selection Committee to meet and make recommendations for project selection and funding levels.
October 1 – Official announcement of selected projects. Notifications are sent out to both award recipients and applicants for projects not selected for funding.

Additional Resources