Bicycle Lanes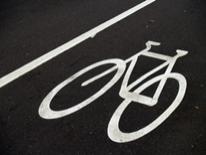 The purpose of the Downtown Bike Lane Pilot Project is to improve bicycle safety and access in the downtown area while maintaining the transportation function of downtown Washington. This is particularly important as we expand to a larger, regional, bike sharing system of over 1100 bikes by the end of the year. These bike lanes are also included the Bicycle Master Plan. Bike lanes are an important part of our goal of expanding transportation choices in the District and the region.
2014 Bike Ways
DDOT plans to install approximately 9-to-10 miles of bike lanes, 3 miles of shared lanes, and 2 miles of neighborhood bikeways before the end of 2014. This will include a new cycle track on M Street, NW, between 14th and 28th Streets. Vist the list and map to view the 2014 planned installations. Please contact Mike Goodno with any questions.

Innovative Bike Facilities Research
DDOT has completed the evaluation of the innovative bicycle facilities installed in 2010 on 15th Street, Pennsylvania Avenue, and the intersection at 16th/U/New Hampshire. The study began in May of 2011 and concluded the following spring. The results are being used to make improvements and help with the design of other similar projects, such and the L Street and M Street cycle tracks downtown.
Goals
To expand transportation choices in the District and the region.
Program at a Glance
Program Title: Bicycle Lanes
Agency: District Department of Transportation
Office: Policy, Planning and Sustainability Administration (PPSA)
Type: Planning and Strategy
Related Documents
Bike Lane Count Fact Sheet 2011
M Street
L Street
15th Street, NW
Pennsylvania Avenue
G Street, NE and I Street, NE
Traffic Memorandum and Analysis