Disadvantaged Business Enterprises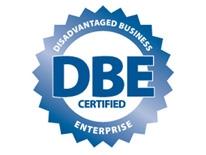 The District Department of Transportation lists upcoming procurement opportunities for the public. DDOT also strongly encourages the use of DDOT certified Disadvantaged Business Enterprises (DBE) for contracting and subcontracting opportunities.
The DBE program is required by Congress as a condition for DDOT in order to receive federal funds. The program provides assistance to minorities, women and other socially and economically disadvantaged individuals to enter the highway construction and design industries.
See our frequently asked questions about the DBE Certification Program. For other questions, contact Luisa Portillo, DBE Certification Specialists at:
District Department of Transportation
Office of Civil Rights
55 M Street, SE, 3rd Floor
Washington, DC 20003
Telephone: (202) 671-0630
Fax: (202) 727-1013
Goals
The Disadvantaged Business Enterprise (DBE) online certification website explains the process of becoming a certified DDOT DBE.
DBE Contract Compliance
The Disadvantaged Business Enterprise (DBE) Contract Compliance. For other questions, contact Mohammed Kabir, Senior Local and Federal Compliance Officer at:
District Department of Transportation
Office of Civil Rights
55 M Street, SE, 3rd Floor
Washington, DC 20003
Telephone: (202) 299-2190
Related Documents
Federal Transit Administration
The DBE Insider Newsletter