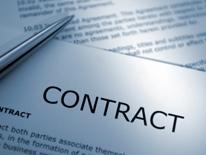 The Office of Contracting and Procurement (OCP), under the direction of the Chief Procurement Officer, was established by DC law in 1997 and provides contracting services for selected agencies and offices in the District.
OCP's mission is to partner with vendors and District agencies. This page contains information for contractors working with the District Department of Transportation (DDOT) to purchase quality goods and services in a timely manner and at a reasonable cost while ensuring that all purchasing actions are conducted fairly and impartially.
Specific solicitation dates can be found at the OCP website as they become available.
DDOT Presentations
DDOT Public Notices
Public Notice (New)
The public is advised that RFQ DCKA-2014-Q-0022 is amended to change the Contracting Officer and transfer all of the authority encompassed therein from William (Pete) Teague to Ahmad Shamloo, effective November 25, 2014. Mr. Shamloo may be reached at (202) 724-4197 or 441 4th Street, NW, Suite 700, Washington, DC 20001
Goal
To provide procurement information for DDOT contractors.
Program at a Glance
Program Title: Contract and Procurement
Agency: District Department of Transportation
Office: Office of the Director (OD)
Type: Administrative
Website: ddot.dc.gov