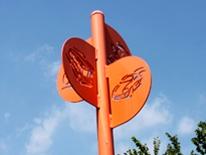 The District was an early proponent of carsharing as an innovative way to help reduce traffic congestion and competition for parking spaces. Carsharing is a network of privately owned vehicles that are rented by the hour or day. Carsharing provides the mobility of a car without the expense and hassle of car ownership.

Participants in a carsharing program pay an annual membership fee and an hourly fee to use a car. The hourly charges cover insurance, fuel, maintenance, and the rental rate. Depending on usage, this can be significantly cheaper than purchasing and owning a car.

Experiences in other cities as well as independent studies show that a single carsharing vehicle can be used by 6 to 10 households, thus helping reduce parking and traffic congestion. For this reason, DDOT provides a limited number of strategically-placed curbside parking spaces for the exclusive use of carsharing vehicles. These spaces were selected in consultation with Advisory Neighborhood Commissions, businesses and community leaders.

The final rule which established this program was published in the DC Register on May 20, 2005 (52 DCR 4744). It can be found in Title 18 of the DC Municipal Regulations Sections 2406.12 and 2406.13.

DDOT has partnered with Zipcar to establish a low emission and environmentally friendly fleet of cars in the District. The vehicles are conveniently located near Metro stations and neighborhood centers throughout the city. Carsharing locations and program details are available on Zipcar's website.
Learn how Carsharing works.
Goal
This is in an effort to reduce congestion and parking problems in the District.
Program at a Glance
Program Title: Carsharing Initiative
Agency: District Department of Transportation
Office: Policy, Planning and Sustainability Administration (PPSA)
Type: Planning and Strategy
Website: Zipcar.com
Related Documents