ParkDC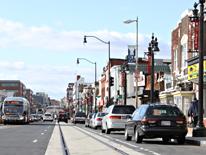 ParkDC is an initiative of the District Department of Transportation to manage and regulate the District's curbside and parking assets.
Background
In 2012, over the course of five months, DDOT hosted 8 meetings - called Think Tanks - across the District to listen to and solicit input from residents, business owners and other interested participants on how to better manage parking. Based on these conversations, in February 2013, the District Department of Transportation (DDOT) released the 2013 Parking Action Agenda. This Parking Action Agenda defined seven key priorities in parking management for DDOT to focus upon and restructure its efforts.
The most discussed issue and what became the first priority was to re-evaluate the RPP program and to ensure it is reflective of the needs of the District in the 21st Century. To this end DDOT launched a project to identify national best practices and define opportunities to make specific changes to the Residential Permit Parking (RPP) Program and curbside management in general. DDOT anticipates that this project will result in recommendations that can form the basis for further discussions with residents, the City Council, and other stakeholders.
Curbside Management Project Update
The DDOT Curbside Management Project to date has involved several research and analytical endeavors, including:
An assessment of existing policies and operational practices in the District;

Existing Policy Assessment
Geo-analytical data and maps

An in-depth inventory of policy approaches to curbside management regionally and North America;
Building on the data and input received thus far, DDOT is sending out a scientific survey to a random sample of District residents to assess curbside management priorities and concept preferences. Using the results of the survey, DDOT will return to the community, the City Council and all other stakeholders to begin the process of redefining the RPP program specifically and curbside management in general.
Goals
To manage and regulate the District's curbside and parking assets.