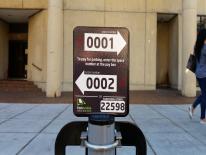 ParkDC is an initiative by the District Department of Transportation (DDOT) to manage and regulate the District's curbside and parking assets.
Introducing Pay-By-Space Parking
Now in Penn Quarter and Chinatown
Approximately 1,000 on-street parking spaces in the Penn Quarter and Chinatown area are now clearly numbered, with new payment kiosks and no need to display receipts on dashboards.
Here's How To Park and Pay:
Park in a numbered space defined by the new space marker posts.
Get your 4- or 5-digit space number from the space marker.
Pay for your parking time by entering the space number at the curbside payment kiosk or entering the zone and space numbers on your mobile device using Parkmobile.
Be on your way! No need to display a receipt on your dashboard.
Pay-By-Space Parking Launch Zone Map
The green-colored streets will be done first the week of October 13 (week one), and the orange-colored streets will follow during the week of October 19 (week two).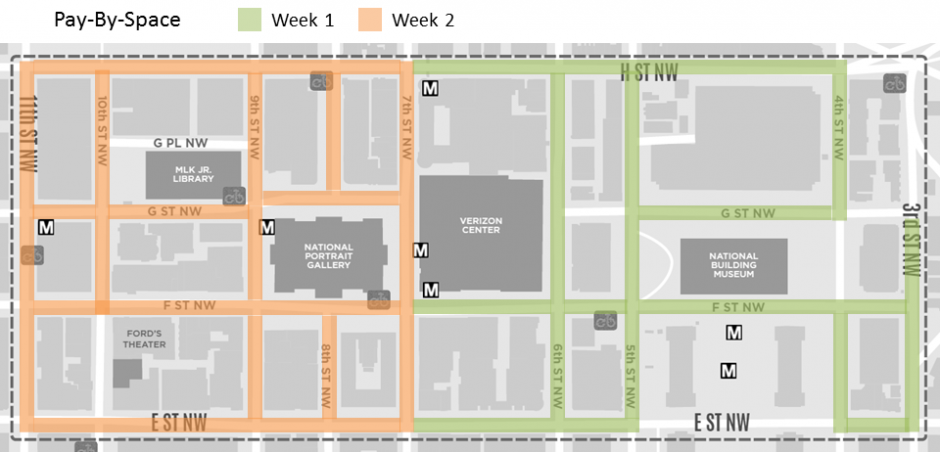 Pay-By-Space is available on streets around the Verizon Center, National Portrait Gallery, National Building Museum, MLK, Jr. Library and Ford's Theater, between E Street and H Street, NW, and 3rd Street and 11th Street, NW. It includes approximately 1,000 parking spaces.
Performance-based pricing coming soon – stay tuned for details.
For more information or if you have questions, call (202) 671-2700 or 311.
Related
Multimodal Value Pricing Pilot for Metered Curbside Parking -- Chinatown/Penn Quarter
Goals
To manage and regulate the District's curbside and parking assets.