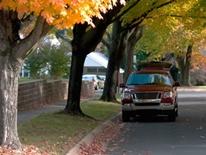 The Visitor Parking Pass (VPP) program is designed to allow guests of District residents to park for more than two hours on Residential Permit Parking or RPP-zoned blocks. A VPP is only valid during the hours of RPP enforcement and in the same RPP zone and ANC boundary as the residence. The passes are not necessary on holidays or other times when parking restrictions are not subject to enforcement.
The VPP can be used to provide temporary Residential Permit Parking (RPP) privileges in the following eligible wards:
Ward 1 - all Ward 1 residents
Ward 2 - 2F only. All other Ward 2 ANCs have opted out of the program.
Wards 3, 4, 5, 6, 7 and 8 - all residents that live on RPP blocks
Residents who live on a commercial zone block are not eligible for VPP or RPP. Non-residential address types are not eligible for VPP/RPP. Since the 2014 calendar year, residents have had to apply for their VPP at the following
link.
More information on the VPP program can be found
here.
To provide District residents with parking passes for their guests.
Service at a Glance
Program Title: Visitor Parking Passes
Agency: District Department of Transportation
Office: Planning and Sustainability Division (PSD)
Type: Administrative