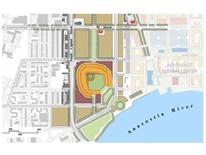 The District Department of Transportation (DDOT) prepared a 2016 Traffic Operations and Parking Plan (TOPP) for Nationals Park.
The TOPP identifies key actions, resources, and strategies designed to help facilitate travel by large crowds to and from baseball games, concerts, and other special events held at Nationals Park.
The TOPP reflects information provided by a wide range of stakeholders, and also reflects details for the 2016 season, which have been provided by the Washington Nationals organization. DDOT and its partners will continue to review and update this document on a regular basis to keep the information timely and will strive to provide the safest and most efficient use of public space while protecting DC residents during ball games and other stadium events.
This document provides guidance on how transit riders, drivers, pedestrians and bicycle riders will safely and efficiently travel to and from the Baseball Park on South Capitol Street.
Goals
This plan provides guidance on how people will travel to and from Nationals Park.
Service at a Glance
Program Title: Traffic Operations and Parking Plan for the Baseball Park
Agency: District Department of Transportation
Office: Progressive Transportation Services Administration (PTSA)
Type: Administrative
Related Documents
Traffic Operations and Parking Plan (TOPP) for Nationals Park 2016