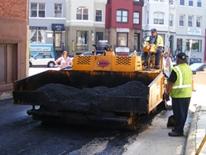 The following listing of suspended streets are those streets that have recently been restored or repaved. In accordance with Title 24 DCMR, Chapter 34, these roads are suspended from excavation for 5 years unless a waiver is issued.
Suspended Five Year (5) Moratorium Streets (This document is being revised)
DDOT coordinates its roadway repaving and reconstruction with all major utilities. The purpose is to ensure newly paved streets are not subjected to excavations which degrade the surface and significantly decrease the pavement's life expectancy. Excavations, even when carefully restored, will leave seams and cracks in the pavement. These openings allow water to seep below the surface. In the winter the water freezes and expands. The expansion causes the pavement to crack and shortens the pavement's lifespan. In addition the expansion cracks allow more moisture to get below the surface and accelerate the degradation of the pavement. This reduces DDOT's ability to maintain the District's streets and significantly increases its street maintenance and paving costs, while needlessly stretching its resources.
DDOT can waive the excavation moratorium for good cause. Requests for a waiver need to be in writing and must include the following information: the location of the excavation; a description of the work to be performed; why the work was not performed before the street was resurfaced or reconstructed; why the work cannot be deferred until after the expiration of the applicable time limitation; and why the work cannot be performed at another location. In determining whether to grant the waiver DDOT will consider the following factors: the impact of the proposed excavation on the neighborhood; the applicant's need to provide services to a property or area; the importance of facilitating the deployment of new technology; and the public's health, safety, welfare, and convenience.
The Street, Sidewalk, and Alley Pavement Schedule provides the most update schedule for street, sidewalk, and alley paving in the District.
Service Need
To suspended streets from excavation for five years unless a waiver is issued.
Service at a Glance
Provided By: DDOT
Phone: 311
Location: 55 M Street, SE, Suite 400 Washington, DC 20003
Related Document