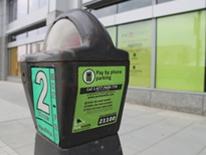 The District's Pay by Phone Program will allow residents, workers and visitors to use their mobile phones to pay for parking at all of the approximately 17,000 on-street metered spaces throughout the District of Columbia.
The program, administered by Parkmobile, provides another convenient payment option for drivers. Instead of paying with cash or a credit card, all it takes is a short phone call.
Motorists must first register for this service with the vendor through the web or by phone. Online, register at Parkmobile.
Note: There is a small transaction fee ($0.32) added to the cost of parking for each Pay by Phone transaction.
Users can also download a mobile application to pay for parking from a smartphone. The mobile apps for iPhone, Android, and Blackberry are easy to use. iPhone users will also be able to take advantage of the GPS functionality, saving up to 5 favorite zones and license plates. You can quick park in the same zone and parking space that was used the last time you parked. These additional features will be included in apps coming soon from Parkmobile for Android and Blackberry.
The Parkmobile toll-free phone number to reach the automated system to register and/or start or extend your parking sessions is: 877-727-5758 (877 PARK 758). If you are parking in Washington DC and call any other Parkmobile phone number you will be at risk parking in a zone in the wrong geographical area and the parking officers in your area wouldn't see your parking payment in that case.
Goal
To offer a variety of cutting edge parking technologies and payment options for motorists parking on District streets.
Service at a Glance
Program Title: Pay by Phone
Agency: District Department of Transportation
Office: Transportation Operations Administration (TOA)
Type: Administrative
Phone: (202) 673-6813