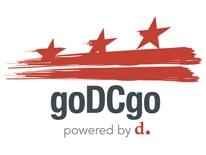 goDCgo is an initiative of the District Department of Transportation (DDOT) that encourages the use of sustainable transportation including walking, biking, and taking public transit. As the leading resource for transportation information, goDCgo provides commuters, residents, and visitors with the education and assistance they need to make more informed choices about their daily travel. We aim to reduce single-occupant vehicle travel, decrease traffic congestion, and improve air quality to create a better quality of life in the District and beyond.
goDCgo Employer Services works with employers in the District to promote sustainable transportation by providing assistance with the development and implementation of commuter benefits programs and transportation amenities. These programs are strategically designed to mutually benefit the organization and its employees. goDCgo's trained employer services specialists work one-on-one with the employer to evaluate transportation challenges and identify solutions to decrease the employee drive-alone rate, help the organization reduce their carbon footprint, and create a commuter-friendly workplace.
goDCgo Residential Services works with property managers, concierges, management companies and others in the residential development space to educate residents about sustainable transportation and influence travel behavior. goDCgo provides tailored services to meet the specific needs of a community, and enhance each property's transportation amenities. Our goal is to improve the marketability and overall transportation experience for residents and potential tenants.
goDCgo Hospitality & Tourism Services works with hotel staff, tourism agencies and large event coordinators to provide transportation training and resources so that staff can best inform visitors of their transit options. goDCgo assists with the marketing and implementation of sustainable transportation programs to improve the visitor and guest experience during their stay in the nation's capital.
Aim for Award-Winning Status Employers and residential properties that offer a robust transportation benefits program and amenities can earn recognition for their efforts.The goDCgo Ambassador Awards recognize DC organizations for their commitment to sustainable transportation and a designation can help your organization stand out from other employers or residential properties.
Office Hours:
Monday to Friday, 9 am to 4 pm