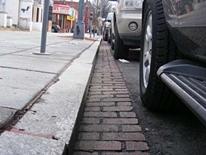 You can request curb and gutter repairs by calling the Mayor's Citywide Call Center at 311 or completing a service request online using the District government's Service Request Center. Please identify the specific location (i.e. address, intersection) and describe the type of repair that is needed.
A service request will then be put into the tracking system, and you should receive a service request number.
DDOT's standard is to investigate and respond to requests for curb and gutter repairs within 10 days. Permanent repairs may take longer depending on the nature of the damage.
You can call 311 or (202) 727-1000 if the problem isn't addressed in a timely manner. Please reference your service request number.
Service Need
Curb repairs are needed to secure vehicles away from sidewalk and tree line areas. Gutter repairs maintain the flow of water and debris away from motorists and toward catch basins along the roadway.
Service at a Glance
Provided By: DDOT
Phone: 311
Frequency: Every Day
Location: 55 M Street, SE, Suite 400 Washington, DC 20003