FOR IMMEDIATE RELEASE
Media Contacts
Temporary Lane Closure on Segment of Metropolitan Branch Trail for Lighting Upgrade Project
(Washington, DC) -- The District Department of Transportation (DDOT) has scheduled a variable lane closure on a portion of the Metropolitan Branch Trail beginning Monday, August 26, 2019, weather permitting. Work is scheduled Monday through Friday between 7:00 AM to 7:00 PM (except holidays). One lane of travel will remain open at all times. Weekend work and night work will not be permitted unless required as an emergency and approved by DDOT.
This lane closure is due to the reconstruction of the streetlights on the Metropolitan Branch Trail from Franklin Street to Florida Avenue, NE. This is a variable lane closure, which will move along within the project limits depending on where active construction is.
Trail users should anticipate shifting traffic patterns. Advance warning signs and flaggers will be in place at all times during construction. Trail users are advised to stay alert while traveling in this location and be observant of work crews. The variable closures are expected to be in place until January 2020.
Once complete, the project will improve safety for all users of the trail. The new LED lights will be hardwired and brighter to better illuminate the trail.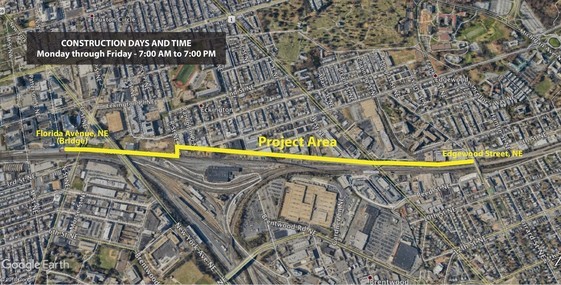 ###
The mission of the District Department of Transportation (DDOT) is to enhance the quality of life for District residents and visitors by ensuring that people, goods, and information move efficiently and safely with minimal adverse impact on residents and the environment.
Follow us on Twitter for transportation-related updates and more; like us on Facebook and follow us on Instagram. Visit the website at ddot.dc.gov. Visit goDCgo.com for more information on transportation options in the District.