FOR IMMEDIATE RELEASE
Media Contacts
Segment of Metropolitan Branch Trail to be Temporarily Detoured Beginning August 12
(Washington, DC) -- The District Department of Transportation (DDOT) is scheduled to temporarily close and detour a section of the Metropolitan Branch Trail beginning Monday, August 12, 2019, weather permitting.
This closure is due to the construction of Althea Tanner Park. During this phase of construction, the trail will be detoured along Randolph Place NE, 3rd Street NE, and Harry Thomas Way to a new connection to the trail at Q St NE. The detour will provide a two-way protected bike lane as well as a dedicated pedestrian lane. The trail detour is expected to be in place through early November.
The temporary detour is necessary for this section of Metropolitan Branch Trail to be repaved and widened, realigned to eliminate the "Z-curve" at R Street NE, and to install new lighting, pavement markings, and wayfinding signage. A permanent new connection to the trail will be constructed at Q Street NE from Harry Thomas Way.
For more information about the Metropolitan Branch Trail project and to stay up-to-date on construction progress, please visit www.metbranchtrail.com.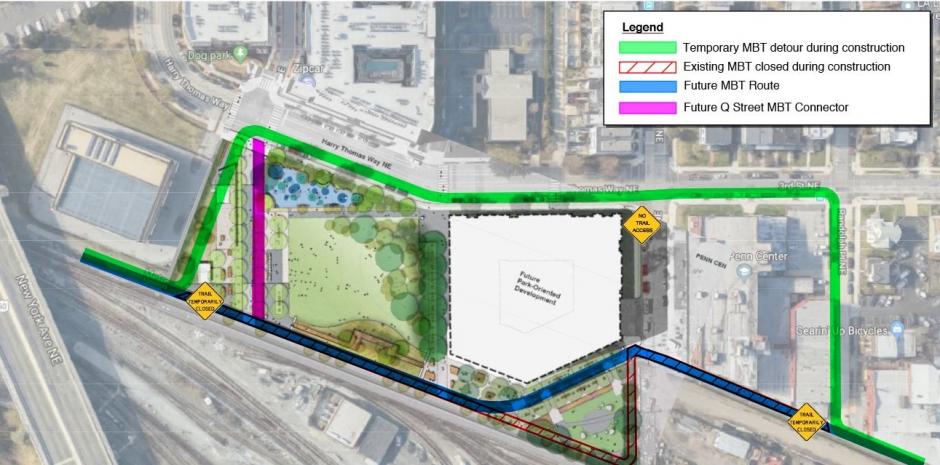 ###
The mission of the District Department of Transportation (DDOT) is to enhance the quality of life for District residents and visitors by ensuring that people, goods, and information move efficiently and safely with minimal adverse impact on residents and the environment.
Follow us on Twitter for transportation-related updates and more; like us on Facebook and follow us on Instagram. Visit the website at ddot.dc.gov. Visit goDCgo.com for more information on transportation options in the District.