FOR IMMEDIATE RELEASE
DDOT Traffic Advisory: Temporary Lane Closures on 15th Street NW Between L and M Streets, April 14
(Washington, DC) -- As part of ongoing work, the District Department of Transportation (DDOT) will temporarily close all lanes on 15th Street NW, between L and M streets NW, starting 6 am through 7 pm, Saturday, April 14, 2018, weather permitting.
The lane closures are required to stage a mobile crane and flatbed trucks in the roadway to hoist roofing pavers and green roofing soils to the rooftop of new construction.
The following conditions will exist:
The east sidewalk on 15th Street will remain open for pedestrians.

The west sidewalk on 15th Street will be closed.

The bike lane on 15th Street will have a detour.
Flaggers will be present to ensure smooth access and egress from the M Street side of 15th Street surrounding the Madison Hotel and the parking garages at this block. Bicyclists, pedestrians, and motorists are advised to use caution in the area and to be attentive to detour signage.
Below is an image of the roadway.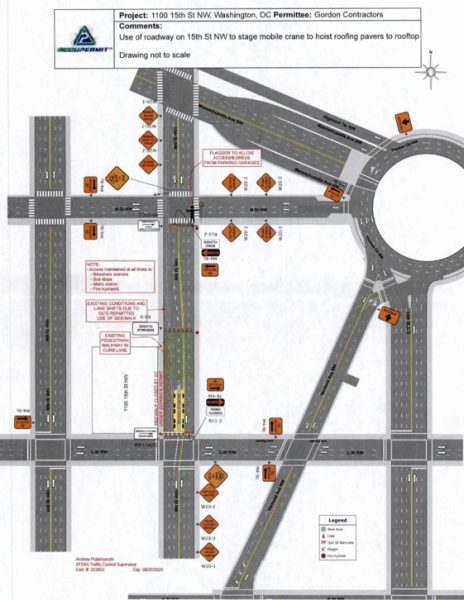 ###
The mission of the District Department of Transportation (DDOT) is to enhance the quality of life for District residents and visitors by ensuring that people, goods, and information move efficiently and safely with minimal adverse impact on residents and the environment
Follow us on Twitter for transportation-related updates and more; like us onFacebook and visit the website at www.ddot.dc.gov. Visit goDCgo.com for more information on transportation options in the District.