Thursday, November 2, 2017

FOR IMMEDIATE RELEASE
DDOT Announces New Penn Quarter-Chinatown Parking Meter Rate Schedules
(Washington DC) -- Beginning Monday, November 6, the District Department of Transportation (DDOT) will implement a new parking meter rate schedule in the Penn Quarter and Chinatown neighborhoods. This is the fifth quarterly parking meter rate adjustment as part of a pilot project to improve parking availability through demand-based pricing.
The study area includes on-street parking spaces bounded by H Street NW, 3rd Street NW, E Street NW and 11th Street NW. The pilot aims to reduce the time needed to find parking, improve turnover of high-demand parking spaces, provide better parking information to motorists, and reduce congestion by adjusting prices based on observed demand for parking on a block-by-block basis.

Penn Quarter/Chinatown pricing adjustments will occur within the red boundary, between H Street NW, 3rd Street NW, E Street NW, and 11th Street NW.
Parking meter rates on individual block faces in this area will range from $1.00 to $5.50 per hour. As with the previous price adjustments, the rates on each block face will vary by time: weekday morning, weekday midday, weekday evening, and Saturday.
The table below provides a summary of the number of block faces that will have quarterly demand-based meter rate adjustments. Blocks identified for adjustments are shown in the figure below: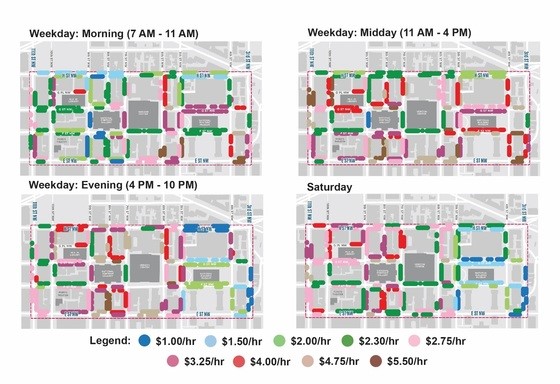 Blocks identified for parking meter rate adjustments.
The detailed parking adjustments will be available at parkdc.dc.gov. Travelers can also see pricing and real-time parking availability information using the parkDC or Voicepark mobile applications, available in the iTunes App Store for iOS and via Google Play for Android.
###
The mission of the District Department of Transportation (DDOT) is to enhance the quality of life for District residents and visitors by ensuring that people, goods, and information move efficiently and safely with minimal adverse impact on residents and the environment.
Follow us on Twitter for transportation-related updates and more; like us on Facebook and visit the website at www.ddot.dc.gov. Visit goDCgo.com for more information on transportation options in the District.