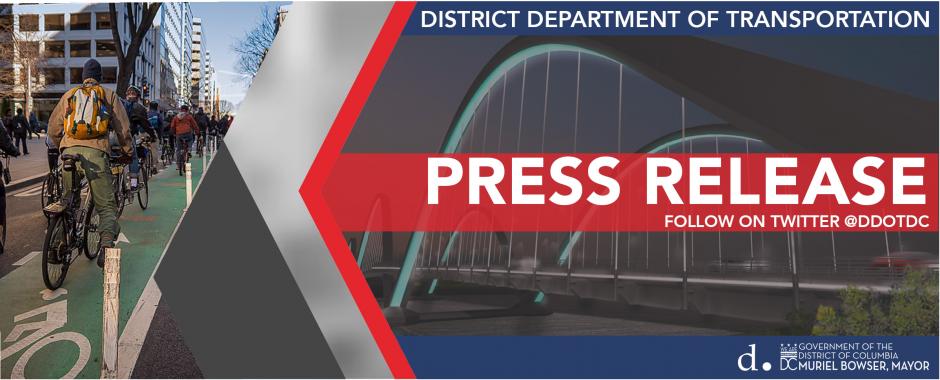 FOR IMMEDIATE RELEASE
Media Contacts

Bowser Administration Increases Pedestrian Safety at Hundreds of District Intersections

(Washington, DC) – Today, the Bowser Administration announced that the District Department of Transportation (DDOT) will provide pedestrians with a "Walk" signal a few seconds before a light turns green and turning vehicles begin to move at 270 DC traffic signals. Called leading pedestrian intervals (LPI), this effort is part of the Mayor's Vision Zero initiative to eliminate traffic deaths and serious injuries in the District.

"The data show that LPIs are an effective tool to make our streets safer for some of the most vulnerable users of the roadway, pedestrians, and cyclists," said DDOT Director Jeff Marootian. "Under Mayor Bowser's leadership, we will continue to use technology, paired with engineering, education, data, as well as public input to make our roads safer."

LPIs provide pedestrians with a "Walk" signal a few seconds in advance of the green signal for adjacent vehicular movements. This "head start" provides pedestrian priority and improves pedestrian visibility by establishing a presence in the crosswalk before turning vehicles start moving. This relatively low-cost treatment, which requires adjustments to existing signal timing, has been shown to reduce pedestrian-vehicle collisions where implemented.

In 2018, DDOT started a four-year process to improve the signal timing throughout the District. On Friday evening, November 8, the 270 new LPIs are being implemented as part of DDOT's larger retiming effort of 655 traffic signals in the area bounded by Rock Creek Parkway to the west; Florida Avenue NW and U Street NW to the north; North Capitol Street to the east; and I-395 to the south (Signal Network Two). Last year 93 LPIs were added to Signal Network One in the first phase of this four-year process.

As part of the Friday retiming effort, DDOT will also:
Create 29 new pre-timed crossings, eliminating the need for pedestrians to push the "walk" button, bringing this feature to 98 percent of the intersections in the downtown network during high-demand hours;
Adjust signal timing to improve bicycle mobility along high-demand bike corridors such as R Street NW; 15th Street NW, and M Street NW;
Adjust late-night signal timing programs along specific corridors to discourage speeding;
Modify traffic signal sequences to reduce conflicts between cyclists and pedestrians at 14 intersections, including protecting right turns at three intersections along the 15th Street cycle track; and
Install two new exclusive pedestrian cycles at the intersections of 20th Street NW and Virginia Ave NW and Connecticut Ave NW and Desales Street NW.

A map of Signal Network Two's current and new LPIs is available here.
###

The mission of the District Department of Transportation (DDOT) is to enhance the quality of life for District residents and visitors by ensuring that people, goods, and information move efficiently and safely with minimal adverse impact on residents and the environment.

Follow us on Twitter for transportation-related updates and more; like us on Facebook and follow us on Instagram. Visit the website at ddot.dc.gov. Visit goDCgo.com for more information on transportation options in the District.