Potholepalooza is the District's spring season campaign to aggressively repair damaged roadways across the city.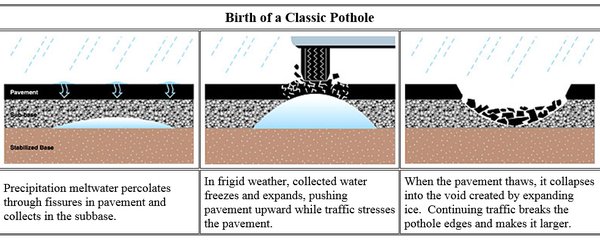 Throughout spring DDOT expedites the repair of potholes for the District and work to repair identified potholes within 48 hours of the request (normal response time is within 72 hours). Since the first Potholepalooza in 2009, DDOT crews have filled more than 400,000 potholes.
Residents and commuters are encouraged to submit requests for pothole repairs through one of the following channels:
Call the Mayor's Call Center at 311 and submit a service request,
Use the Online Service Request Center at 311.dc.gov or the smartphone application
Visit DDOT's service request website http://ddot.dc.gov/potholes
Tweet to twitter.com/DDOTDC, Use the hashtag #potholepalooza
Goals
To expedite pothole repairs in the District.
The program at a Glance
Program Title: Potholepalooza
Agency: District Department of Transportation
Office: Operations Administration (OA)
Type: Planning and Strategy