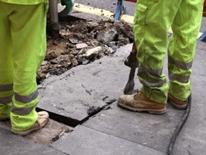 The 21-approved Traffic Control Plan (TCP) Typicals are used primarily for utility excavation, but can also be modified to use for other work within the public right of way. When applying for your public space occupancy permit for construction staging, it's important to show all the existing conditions in the immediate vicinity of the work, as well as labeling the roadways and showing a north directional arrow.

When flaggers are deployed at work zones, they must be certified and have electronic communication. Additionally, depending on the functional classifications of the affected roadways, the deployment of all the temporary traffic control devices and signage shown on the TCP typical may be required. Failure to do so may result in fines or permit revocation.

For more information on designing traffic control plans, please see the Temporary Traffic Control Manual posted under Public Space Management and under Standards and Guidelines.
Goals
The twenty-one (21) approved traffic control plan (TCP) typicals are used for utility excavation.
Program at a Glance
Program Title: Utility Work Zone Traffic Control Plan (TCP) Typicals
Agency: District Department of Transportation
Office: Planning and Sustainability Division (PSD)
Type: Planning and Strategy
Related Document