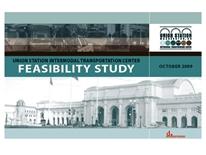 DDOT launched the Union Station Intermodal Transportation Center (ITC) Feasibility Study in February 2008. The study was designed to investigate the development, design and construction of a new transportation hub at Burnham Place and Union Station in Northeast, Washington, DC. The study was completed in October 2009.
Study Areas
M Street, NE, to the north

3rd Street, NE, to the east

Massachusetts Avenue, NE, to the south

North Capitol Street, to the west
The study was funded by a Federal Highway Administration earmark of $800,000 authorized by The Omnibus Appropriation Act for FY 2004 (H.R. 2673). Additional funding was provided in a $750,000 earmark from the Federal Transit Administration (FTA), as per H.R. 4818 (FY 2005). Lastly, the Union Station ITC had an additional FTA earmark of $700,000 per H.R. 3058 (FY 2006). The Union Station ITC earmarks total $2.25 million.
Study Scope
The Union Station ITC study analyzed the feasibility and impact of creating enhanced access to multiple modes of transportation at Burnham Place, Union Station and the surrounding transportation network. The study was designed to produce focused feasibility reports/products on the following areas:
Baseline Transportation Improvement Studies

New Rail Passenger Concourse

Upgraded Amtrak passenger concourse

Improved Emergency Access & Egress

Improvements to the Existing Rail Concourse

Tour Bus and Commuter Parking Accommodations

Streetcar Integration

Pedestrian Tunnel from Union Station to 1st Street, NE

New Metrorail Entrance from the H Street Bridge

Baseline Environmental Requirements Study
DDOT will now determine if further analysis is necessary and/or plan for the phased implementation of the study's recommendations.

For more information on the Union Station ITC study, contact:
DDOT welcomes suggestions and comments about the Union Station ITC Feasibility Study.
Goals
To study the feasibility of a new intermodal transportation hub at Union Station.
Program at a Glance
Program Title: Union Station Intermodal Transportation Center (ITC)
Agency: District Department of Transportation
Type: Planning and Strategy
Related Documents