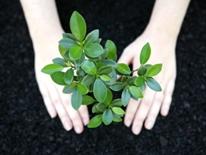 DDOT Trees, the Urban Forestry Division for DDOT, is the leader in annual tree planting in Washington, DC, accounting for about half of all trees planted each year throughout the District.
In addition, DDOT Trees works to improve growing conditions by reviewing permit applications, enforcing regulations, expanding tree boxes, creating planting strips, increasing soil volume, and installing locally grown nursery stock to provide as much opportunity as possible for trees to thrive.
Tree Planting Map
The tree planting map is interactive and identifies 6,400 proposed planting locations throughout the city, as well as the 4,200 trees planted last year (indicated on the map as orange points). Clicking any of planting location will call-out the species name and the street address.
Currently Scheduled Street Tree Planting Locations
This Map is best viewed in Mozilla Firefox. Mobile devices can access it too, but an app is required. To identify the appropriate mobile app suited for your device, review information at ESRI.
Adopt New Street Trees - Become a Canopy Keeper
Through the Canopy Keepers program, DDOT asks residents and businesses to water two new trees every week from spring to fall to supplement watering crews' periodic watering. Receive a free tree watering ring for each tree adopted. The rings are yours to keep. Just be sure to clean and store them between each weekly use as well as over the winter.
Request a Tree Planting
DDOT is working to remove excess pavement, expand tree boxes, create new planting strips, and increase soil volume to provide as many street planting locations as possible. Call 311 (or go online at 311.dc.gov) to request a street tree planting. Requests submitted by June 15 will be included in that year's planting season from October through March.
Plant Your Own Tree
If you wish to plant a street tree yourself, you must receive permission from a UFA arborist. DDOT needs to ensure the species is viable for the location, and that the tree is entered into our GIS database so we track its health and maintain it to maximize its potential.
Goals
To populate viable street planting locations with a healthy, safe, growing tree.
Program at a Glance
Program Title: Tree Planting
Agency: District Department of Transportation
Office: Urban Forestry Division
Type: Planning and Strategy
Related Document
Tree Planting Specifications
Tree Watering Tool
---
The District government has provided links as a courtesy, and is not responsible for information on websites outside the DC portal. Inquiries should be made to the sponsoring organizations.