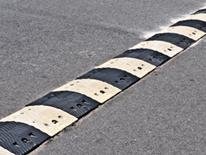 What is a

Traffic Calming and Traffic Safety Investigation

?

A Traffic Calming and Traffic Safety Investigation is an evaluation conducted by DDOT that responds directly to targeted citizen concerns regarding traffic speed, volume, and type, as well as behavior such as aggressive driving. The assessment and investigation are aimed at developing short-term, high-impact measures to manage or tame traffic flow in areas where problems are observed. Assessments and safety Investigations are performed within clearly defined geographic areas such as blocks in sequence (i.e., 300 to 500 block on a specific street) or parallel blocks (i.e., 400 blocks on three adjacent streets). Desired outcomes of the Traffic Calming and Traffic Safety Investigation process may include a reduction in traffic speed, enhanced residential comfort, and improved general safety for pedestrians and bicyclists.
Traffic Calming Measures Available for Residential Neighborhoods in the District
The following physical traffic calming measures may be installed in residential neighborhoods in the District:

Bulb-out / Curb Extension: An extension of a curb in the form of a bulb, usually at an intersection, that narrows the vehicular pathway and inhibits fast turns, and shortens the crossing distance for pedestrians.

Chicane: A series of fixed objects, usually extensions of the curb, which alter a straight roadway into a zigzag or serpentine path to slow vehicles.
Choker: A narrowing of the fixed street, often mid-block and sometimes near an intersection. Might be done with curb extensions, landscaping or islands in the street.
Neighborhood Traffic Circle: A small circular island, usually less than 26 ft in diameter, used in the middle of intersections and intended to force vehicular traffic to slow and negotiate around it. When used in residential areas, they can be landscaped for aesthetic or barrier purposes and may have mountable curbs to facilitate movement of emergency vehicles.
Diagonal Diverter: A partition that connects two diagonally opposite curbs, bisecting the intersection, to force motor vehicles to slow down and turn. A traversable barrier allows emergency vehicles, as well as bicyclists and pedestrians, to cross over.

Forced Turns: These are islands used on approaches to an intersection that force drivers to turn in only one direction (usually right).
Full Street Closures: Barriers placed across an entire width of the street to completely close the street to through-traffic, usually leaving only sidewalks open. Full street closures are also referred to as cul-de-sacs or dead ends.

Gateways / Entry Treatments: Alterations in the pavement surface, with bricks, stamped concrete, or other colored materials intended to signal to drivers that they are entering a neighborhood or community that requires lower speeds. Pillars and archways are sometimes used to complement gateways.

Half Closures / Semi-diverters: Barriers that block travel in one direction for a short distance on an otherwise two-way street.
Median Barriers: Narrow islands constructed between travel lanes through an intersection. Median barriers are intended to prevent left turns from the major street and through movements along the minor street.

Raised Crosswalk: A traditional pedestrian crossing area purposely raised above the normal pavement surface level in order to give motorist and pedestrians a better view of the crossing area.

Raised Intersection: The entire area of the intersecting streets is purposely raised above normal pavement surface level in order to reduce vehicle speed through the intersection and provide a better view of pedestrians and motorists in the intersection.
Rumble Strip: Pavement surface treatments intended to cause drivers to experience vehicular vibrations signaling the drivers to slow down.
Speed Bumps: Narrow mountable obstructions installed on the pavement surface, across the traveled lanes, and intended to cause vehicles to slow to almost stop. Speed bumps are usually less than 14 inches wide and 4 inches high.
Speed Humps: Similar to speed bumps, but utilize larger vertical radii that result in wider widths and a gentler crossing by vehicles.

Speed Tables: Wide mountable obstructions installed on the pavement surface across the travel lanes, and intended to cause vehicles to slow. Speed tables are similar to speed humps, except for the flat-topped section located between the approach and far edges; are generally wider than speed humps and are gentler on vehicles.

On-Street Parking: On-street parking provides increased safety by placing a physical barrier between moving vehicles and pedestrians and reduces the speed of traffic traveling adjacent to the parked vehicles.
Related Information