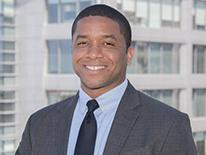 Todd P. McIntyre is DDOT's Chief of Staff, after having served as DDOT's Deputy Chief of Staff. Mr. McIntyre brings more than 15 years of transportation experience in strategic planning, public policy, government affairs, strategic and crisis communications, and business process improvement.
Mr. McIntyre joins DDOT from the Federal Railroad Administration in Washington, D.C., where he has served as a regional team lead, regional manager, and a transportation industry analyst. He supervised a team and provided oversight of more than $4 billion in federal funds used for passenger and freight rail infrastructure; served as a liaison to state transportation departments; and served on the TIGER Grant program screening team, among other duties.
Mr. McIntyre also served as a policy analyst for transportation, environment and infrastructure issues in the Office of the Mayor in Los Angeles, Calif., a community relations manager with the San Mateo County Transit District in San Carlos, Calif., and a public affairs manager at Cerrell Associates, also in Los Angeles.
Mr. McIntyre received the Mass Transit Magazine's Top 40 Under 40 Award in 2010. He holds a master's degree in urban planning from the University of Southern California, Los Angeles, Calif., and a bachelor's degree in Spanish from Morehouse College in Atlanta, Ga. Mr. McIntyre also holds a commercial pilot certificate from the Embry-Riddle Aeronautical University, Daytona Beach, Fla.
Email: [email protected]