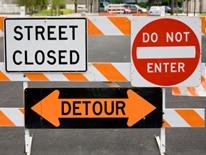 The Manual is issued to promote a uniform standard of traffic control associated with Special Events, Incident Management, and Work Area Protection along the streets and highways of the District of Columbia. The standards, policies, and objectives contained in this Manual are intended to furnish information and guidance to personnel authorized to do work on the highway right of way and are not intended to establish a legal requirement for installation.
Traffic control devices shall be defined as all signs, signals, markings, and other devices used to regulate, warn, or guide traffic, placed on, over, or adjacent to a street, highway, pedestrian facility, or bikeway by authority of a public agency having jurisdiction.
The guidelines provided in this manual may be used as a resource in preparing a traffic control plan to submit with your public space permit application for your proposed work zone or construction staging area on public space.
Goals
To regulate, warn, or guide traffic.
Program at a Glance
Program Title: Temporary Traffic Control Manual
Agency: District Department of Transportation
Office: Planning and Sustainability Division (PSD)
Type: Administrative
Related Documents