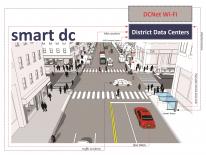 On February 4, DDOT submitted an application to the Smart City Challenge, a nationwide competition sponsored by the US Department of Transportation (USDOT) encouraging cities to envision how smart technology can help them meet future transportation challenges.
DDOT has used a variety of outreach tools to collect feedback from the District public. This included poll questions on Twitter as well as an information and listening session.
DDOT's Smart City Challenge application can be viewed here.
Information Session
On February 24, 2016, DDOT hosted an information and listening session on the District's submission to the Smart City Challenge. Representatives from the public, private and non-profit sectors learned more about DDOT's vision for a "Smart DC," and attendees had the opportunity to ask questions and present their own ideas and vision for ways to move the District toward becoming a smart city.
Any questions can be directed to David Koch at [email protected]