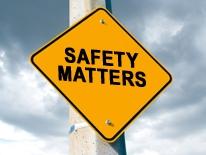 Safety Matters projects are high impact, low cost improvements to neighborhood streets such as new pavement markings, signs, signals, curb changes, or lighting to improve bicycle, pedestrian, and driver safety.
DDOT will begin working on roadway safety improvements on Garfield Street, NW beginning Monday, November 28, 2011, weather permitting. Work is scheduled to take place between the hours of 7:30 am and 5 pm.
This project is estimated to take on or around 14 business days from projected start to complete.
This project will improve the overall safety of the roadway for cyclists, pedestrians, and drivers.
Signs will be posted to alert all motorists of lane closures. Parking restrictions may occur. 72 hour notifications will be provided to the public prior to these parking restrictions being implemented.
DDOT encourages all patrons to stay alert as they travel through this corridor.
Goals
To improve bicycle, pedestrian, and driver safety.
Program at a Glance
Program Title: Safety Matters Projects
Agency: District Department of Transportation
Type: Planning and Strategy
Start Date: November 28, 2011
Target End Date: December 11, 2011
Related Document
Traffic Calming Measures - Pavement Marking Plans - Garfield Street, NW