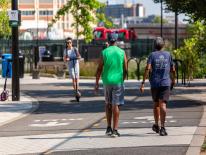 What is the Recreational Trails Program?
The Recreational Trails Program (RTP) is federal grant program that provides funding for recreational trail projects. RTP provides funding for the development, renovation, and maintenance of recreational trails and trailside facilities. The Federal Highway Administration (FHWA) administers this program at the federal level while the District Department of Transportation (DDOT) administers the program for the District of Columbia (District).  
Program Background  
Funding for the RTP is currently made available through the Infrastructure and Investment Jobs Act (IIJA) of 2021. The District currently receives a federal allocation of approximately $800,000 each federal fiscal year. The RTP exists because of fuel tax revenue generated by snowmobiles, off-highway motorcycles, all-terrain vehicles, off-highway light trucks and other motorized trail uses. Each state receives a different apportionment of RTP funds, of which one-half is based on an estimate of non-highway recreational fuel use within each state.  
Who is eligible to apply? 
The entities listed below are eligible to apply for RTP funding: 
Local governments  
Federal Agencies (like the National Park Service)  
Regional transportation authorities  
Natural resource or public land agencies  
Tribal governments  
Nonprofit 501 (c) organizations  
If a non-profit organization is interested in applying for RTP funds to execute a design or construction project, then the organization must partner with an eligible government agency that is willing to act as the official Project Sponsor. Nonprofits that apply using this arrangement should clearly articulate the role and responsibilities of the respective parties in the application. The Project Sponsor must provide a signed letter outlining the agreement and the breakdown of the roles and responsibilities in the RTP application.  
Any other local or regional governmental entity with responsibility for oversight of transportation or recreational trails consistent with the goals of subsection 23 U.S.C. 133(h). 
State DOTs are typically considered ineligible to apply for RTP funding. However, as DC government is the only local government within the District of Columbia, the DDOT qualifies as a local government entity. DDOT project managers can submit applications for projects which will be subject to the same competitive process for selection.  
Eligible projects include:  
Maintenance and restoration of existing trails 
Development and rehabilitation of trailside and trailhead facilities and trail linkages 
Construction of new trails (with certain restrictions on federal lands)  
Purchase and lease of recreational trail construction and maintenance equipment 
Assessment of trail conditions 
Development and dissemination of publications and operation of educational programs to promote safety and environmental protection related to trails 
Education Projects 
Education projects are limited to 5% of the total RTP allocation for the state per fiscal year. Educational programs promote safety and environmental protection as related to the use of recreational trails. Eligible projects include the development and operation of trail safety education programs, the development and operation of trail-related environmental education programs, or the production of trail-related education materials. 
Application and Review Timeline 
| | | |
| --- | --- | --- |
| Application Due | Application Review | Tentative Funding Decision Date |
| November 1, 2022 | Nov-Dec 2022 | December 21, 2022 |
Environmental Review Requirements 
Because the RTP is federally funded, RTP projects must therefore satisfy National Environmental Policy Act (NEPA) requirements to be eligible for funding. Grantees are responsible for completing the necessary environmental review with the landowner.  
Conditions for a Categorical Exclusion 
RTP projects qualify as a Categorical Exclusion (CE) in accordance with NEPA (40 CFR 1508.4) and FHWA (23 CFR 771.117(c)(3) and 23 CFR 771.117(c)(23)) regulations. In accordance with 23 CFR 771.117(a), a project may be considered a CE if it does not cause significant environmental impacts and does not involve unusual circumstances as described in 23 CFR 771.117(b).  
A project must therefore meet the conditions below to be approved for a CE, in compliance with NEPA and FHWA regulations, as well as Stipulation IV.B.b. of the Programmatic Agreement between FHWA and DDOT regarding the processing of actions classified as CE for Federal-aid highway projects. Specifically, it must be demonstrated that an individual project will not:  
Involve the acquisition of more than a minor amount of right-of-way (an acquisition is considered more than minor if it will involve more than 10,000 sq feet);  
Involve acquisitions that result in any residential or non-residential displacements; 
Involve the construction of temporary access or the closure of the existing road, bridge, or ramps that would result in major traffic disruptions during construction. Major traffic disruption is such that within the context of the project, the disruption does not create a potential for public controversy, or the intensity of the impacts on resources in the study area rises to the level of significance; 
Involve changes in access control on an interstate highway; 
Result in a determination of adverse effect on historic properties pursuant to Section 106 of the National Historic Preservation Act (54 U.S.C. § 306108);  
Require the use of properties protected by Section 4(f) (49 U.S.C. § 303/23 U.S.C. § 138) that cannot be documented with an FHWA de minimis determination, or a programmatic Section 4(f) evaluation other than the programmatic evaluation for the use of historic bridges; 
Be expected to induce controversy on environmental grounds;  
Require a US Army Corps of Engineers Clean Water Act Section 404 permit other than a Nationwide Permit or a General Permit;  
Require floodplain encroachment other than functionally dependent uses (e.g., bridges, wetlands) or actions that facilitate open space use (e.g., recreational trails, bicycle, and pedestrian paths), as well as work encroaching on a regulatory floodway or work affecting the base floodplain (100-year flood) elevations of a water course or lake, pursuant to Executive Order 11988 and 23 CFR 650 subpart A; 
Require construction in, across, or adjacent to a river designated as a component of, or proposed for inclusion in, the National System of Wild and Scenic Rivers published by the US Department of Interior/US Department of Agriculture; 
Include acquisition of land for hardship or protective purposes or early acquisition pursuant to Federal acquisition project (23 U.S.C. § 108(d)); 
Require any adverse impacts to minority, low-income, limited-English populations or any other population protected by Title VI of the Civil Rights Act of 1964 and Executive Order 12898 (Environmental Justice in Minority Populations and Low-Income Populations); 
Require any Clean Water Act Section 402 (NPDES) Individual Permits; 
Involve any known hazardous materials sites or previous land uses with the potential for hazardous materials remain within the right-of-way; 
Affect federally listed or candidate species, or proposed or designated critical habitat, or have impacts subject to the conditions of the Bald and Golden Eagle Protection Act; and,  
Have impacts on migratory birds subject to the conditions of the Migratory Bird Treaty Act.  
Applicable environmental laws must be satisfied by the RTP grantee and land management agency involved in the project, whether that project is on federal, state, city, or private land. 
Project Applicant Responsibilities 
DDOT is responsible for project selection and providing oversight for the Recreational Trails Program, but the grant awardee is responsible for the administration of the project. The listed project manager will be responsible for project development, quality assurance, daily project management and construction, and supervision of contractors. Prior to obligating federal funds to Rec Trails Program projects, DDOT will require project applicants to sign a memorandum of agreement outlining their responsibilities for the project. In addition to the duties listed above, the project applicant will agree to uphold all federal requirements, provide accurate cost estimates, document the availability of cash flow, and obtain all necessary public space and construction permits. All projects must be completed within two years of the availability of federal funds. Projects which are unable to begin the implementation process (payment of the first invoice) within one year of obligation risk having their funding de-obligated. Project applicants will bear responsibility for all cost overruns and must commit to repayment of all federal funds for projects which are left uncompleted. Upon completion, the project applicant will be required to provide future maintenance and upkeep for all improvements unless alternative maintenance plans are explicitly agreed upon by DDOT. In accordance with federal record retention guidelines, the sponsor will be responsible for maintaining all financial documents and project development records for a minimum of three years after project close-out.  
Treatment of Projects & Federal Requirements  
The "treatment of projects" requirement (23 U.S.C. 213(e)) means that all projects carried out using RTP funds must comply with applicable provisions in Title 23, such as project agreements, authorization to proceed prior to incurring costs, competitive bidding, and other contracting requirements, regardless of whether the projects are located within the right-of-way of a Federal-aid highway. The grant awardee must ensure compliance not only with District but with federal rules and regulations. Some of the basic federal regulations include: 
Americans with Disabilities Act (ADA) 
National Environment Policy Act (NEPA) 
Section 106 of the National Historic Preservation Act (NHPA) 
Section 4(f) of the U.S. Department of Transportation Act 
Davis-Bacon Wage Rates 
Disadvantaged Business Enterprises (DBE)  
Uniform Relocation Property Assistance and Real Property Acquisition Policies Act  
Brooks Act  
Buy America  
Competitive bidding 
Environmental Justice (Executive Order 12898) 
Title VI of the Civil Rights Act of 1964  
Application Reviewing and Scoring 
The RTP application review process involves: 
Internal Review Panel: DDOT's review panel is comprised of at least 3 DDOT employees 

The Mayor's Recreational Trails Advisory Committee (MRTAC) 
Step 1: Internal Review – Preliminary Review: The Internal Review Panel (DDOT's Grant Review Panel) performs a technical review of each application. The preliminary review rubric can be found below. Applications which do not pass preliminary review will not be considered for funding. All applications that pass preliminary review will move on to step 2 and be shared with the MRTAC members.  
Step 2: Internal Review- Scoring Criteria: If the application meets the preliminary review process, DDOT's Grant Review Panel, as well as the MRTAC members, review the overall application based on the RTP Scoring Criteria and provide individual scores per criterion.  
Step 3: Internal Review Panel Meeting with Rec Trails Advisory Committee: The DDOT Grant Review Panel holds a meeting with the MRTAC members to discuss the recommended list of projects to be awarded based on scoring results.  
Step 4: Finalizing Recommendations  
The DDOT Grant Administrator provides a summary of the recommendations in the Memorandum of Record to the DDOT Grant Review Panel as well as the MRTAC. Award recommendations will be circulated internally for approval from DDOT's leadership. Following approval, applicants will be notified of their award.  
Related Documents
How to Apply?  
If you have questions, please contact DDOT's Trail Planner, Stephanie Piperno, at [email protected].