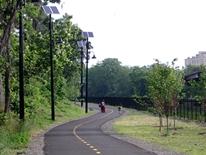 The District of Columbia Department of Transportation (DDOT) is accepting applications for the Recreational Trails Program. This program, funded through SAFETEA-LU (Safe, Accountable, Flexible, Efficient Transportation Equity Act: A Legacy for Users), makes funds "available to the States to develop and maintain recreational trails and trail-related facilities for both non-motorized and motorized recreational trail uses". Approximately $500,000 in funding is available city-wide annually.
Applications are accepted for trail projects that are supported by the community and further District plans. The District will review applications and provide grants to non-profits or carry out the project in-house using the District's procurement process.
Questions can be sent by email to DDOT's Bicycle Program Specialist/Trail Planner, Heather Deutsch.
Criteria (as establish by SAFETEA-LU)
Recreational Trails Program funds may be used for:
Maintenance and restoration of existing trails.
Development and rehabilitation of trailside and trailhead facilities and trail linkages.
Purchase and lease of trail construction and maintenance equipment.
Construction of new trails (with restrictions for new trails on Federal lands).
Acquisition of easements or property for trails.
Assessment of trail conditions for accessibility and maintenance.
Development and dissemination of publications and operation of educational programs to promote safety and environmental protection related to trails (including supporting non-law enforcement trail safety and trail use monitoring patrol programs, and providing trail-related training).
States are encouraged to enter into contracts and cooperative agreements with qualified youth conservation or service corps.
To Apply
Complete the Recreational Trails Program Application Form, and email, mail or fax to:
Heather Deutsch
55 M Street, SE, Suite 400
Washington, DC 20003
Fax: (202) 671-0617
Timeline
Applications are accepted on a rotating basis.
Applications will be reviewed by the Recreational Trails Program Advisory Committee which meets on the third Tuesday of even (2nd, 4th, 6th, 8th, 10th, 12th) months.
The Advisory Committee is also available to provide direction in completing applications. Interested applicants should contact Heather Deutsch to be added to the Recreational Trails Program Advisory Committee meeting agenda.
Contracting
Recreational Trails Program funds are available in the form of grants to non-profits. Projects may also be performed in-house or by an outside contractor, following the District of Columbia procurement process.
Related Information