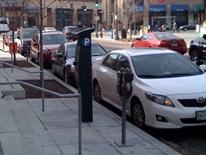 The District Department of Transportation (DDOT) began implementation of the Performance-based Parking Pilot Zone Act of 2008 in three District neighborhoods:
Columbia Heights (Ward 1)
Capitol Hill/ Ballpark District (Ward 6)
H Street, NE corridor from 3rd Street, NE to 15th Street, NE/Benning Road, NE
Performance-based parking manages the demand for parking to:
Protect resident parking - Higher curbside parking meter rates combined with more stringent parking restrictions in residential neighborhoods in the pilot areas help preserve curbside parking for residents in areas where business or entertainment uses draw lots of visitors.
Protect businesses - Performance based meter rates and time limits are designed to encourage brief curbside parking with high turnover while discouraging long-term parking that would deprive businesses of customers. Visitors with long-term parking requirements are encouraged by the higher meter rates to utilize off-street parking facilities.
Promote non-automotive transportation and reduce congestion - Higher curbside meter rates encourage walking, biking and transit use in lieu of auto travel in congested places.
DDOT can use a variety of tools to manage the on-street parking resources in the designated pilot zones:
Escalating or variable pricing parking meter rates
Adjusted days and hours of operation for curbside space management
Adjustable parking fines
Expanded Residential Permit Parking plans
If you have any further comments or questions, please contact Damon Harvey at [email protected] or (202) 671-2800.
Goals
To effectively manage the parking resources in designated pilot zones.
Program at a Glance
Program Title: Performance Based Parking Pilots
Agency: District Department of Transportation
Office: Policy, Planning and Sustainability Administration (PPSA)
Type: Planning and Strategy
Related Documents
Legislation
Performance-based Parking Pilot Zone Act of 2008
H Street, NE (Ward 6)
Capitol Hill/Ballpark District (Ward 6)
Columbia Heights (Ward 1)
Map for Parking Zones
Map for Normal, Premium and Performance-based Parking Meter Zones 2011