PARK(ing) Day 2021
PARK(ing) Day returns to the District of Columbia on Friday, September 17, 2021, from 9:00 am to 4:00 pm. This annual event is an opportunity for District residents and businesses to display their creativity, building pop-up parks in curbside parking spaces throughout the District's eight wards.
Initially started in San Francisco in 2005, PARK(ing) Day is an event in which residents and businesses re-think the use of public space by converting metered on-street parking spaces into temporary parks. Since its inception, the event has spread to cities around the world, taking place on the third Friday of September.

The pop-up parklet locations for PARK(ing) Day 2021 are located on the map below. The map also includes a suggested bike route for those who choose to visit parklets by bicycle, DDOT's recommended mode of transportation for the event!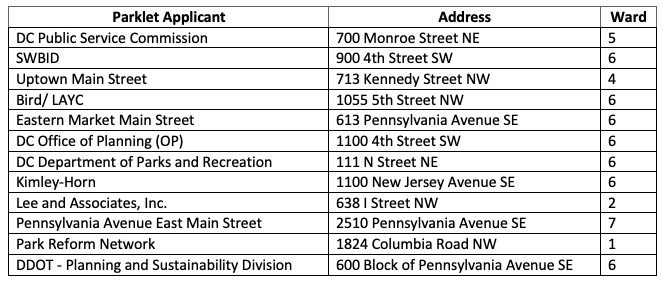 Event Guidelines and Application Process
Applicants should familiarize themselves with all the event requirements before designing their pop-up park or beginning the permitting process. Please review the PARK(ing) Day event guidelines and requirements below.
DDOT will coordinate the permitting process for applicants using the Transportation Online Permitting System (TOPS). All application materials MUST BE UPLOADED electronically through TOPS.