DDOT completed a feasibility study of the former Glen Echo Trolley line from St. Mary's Place, NW to Galena Place, NW in the Georgetown and Palisades neighborhoods in December 2019. The study area included the abandoned Foundry Branch Trestle Bridge in the historic Glover Archbold Park at Canal Road.
Purpose & Study Area
Through the study, DDOT looked at critical issues and challenges in developing a multi-use trail for pedestrians and bicyclists of all ages and abilities on the former Glen Echo Trolley line corridor, an area commonly referred to as the Palisades Trolley Trail.
The study considered a range of factors including, but not limited to, transportation network connectivity, topography, utility conflicts, right-of-way impacts, stormwater management, cost, stakeholder and public input.
Final study documents are available below. A map of the project survey area is shown below: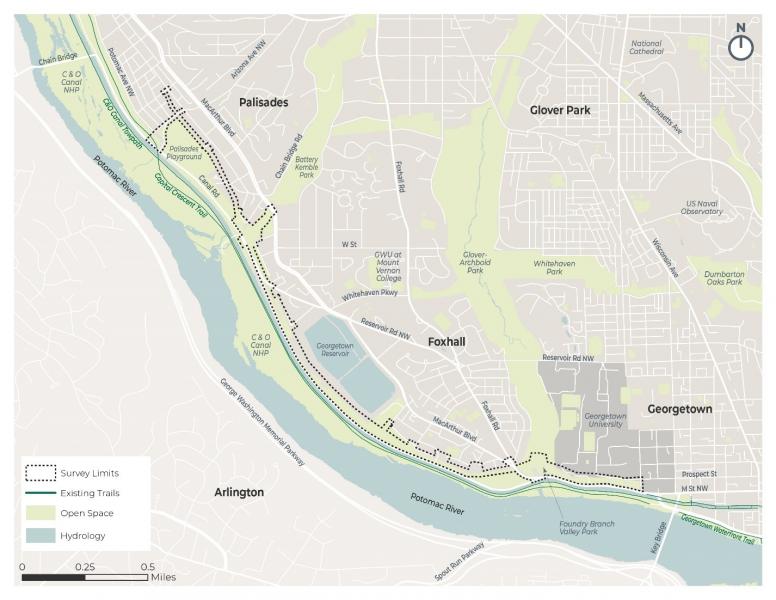 Past Public Meetings
What: Palisades Trolley Trail & Foundry Trestle Feasibility Study - Public Meeting #1
When: Thursday, March 7, 2019, 6:30 PM to 8:00 PM (Short presentation begins at 7:00 PM)
Where: Palisades Neighborhood Library, Meeting Room, 4901 V Street NW, Washington, DC 20007
What: Palisades Trolley Trail Feasibility Study - Public Meeting #2
When: Tuesday, July 23, 2019; 6:30 PM to 8:00 PM
Where: St. John's Episcopal Church, Georgetown; 3240 O St NW, Washington, DC 20007
Project Contact
Project Manager
Michael Alvino
[email protected]
(202)-671-1321